AT&T credits DirecTV gobble for $41bn quarter
2.3 million new mobile subscribers didn't hurt either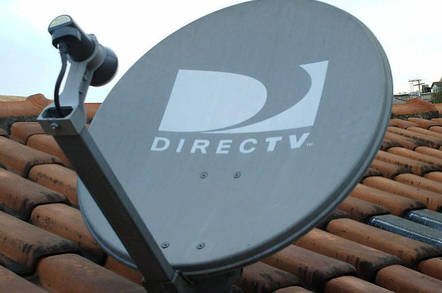 AT&T says its recent purchase of satellite provider DirecTV helped drive a 24 per cent jump in revenues.
The US telco giant said that the $49bn merger was already beginning to pay dividends with its 2016 Q1 [PDF] period.
"We're seeing good momentum with our initial integrated wireless, video and broadband offers," said AT&T CEO Randall Stephenson.
"And we'll expand the integrated choices for customers in the fourth quarter when we launch our new video streaming services."
The report comes as rival carrier T-Mobile is boasting of a massive 2.2 million customer adds on the quarter, thanks in part to aggressive marketing efforts aimed at winning over AT&T subscribers.
Revenues of $40.5bn marked a 24 per cent increase over Q1 2015.
Net income of $3.8bn was a 13 per cent increase from the $3.3bn income last year.
Non-GAAP earnings per share of $0.72 topped analyst estimates of $0.69.
Wireless net adds of 2.3 million customers, driven largely by an increase in connected devices and 712,000 mobile phone adds.
The entertainment group (including DirecTV) logged revenues of $12.7bn, a 124 per cent jump from last year.
Wireless revenues for business were $9.6bn, up 2.3 per cent, while consumer wireless revenues of $8.3bn were down 5 per cent due to lower hardware revenues.
International revenues from mobile services in Mexico and satellite TV in Latin America recorded a loss of $198m, which AT&T blames on investments in additional network hardware in those markets.
After hours trading had AT&T stock down just under 1 per cent. ®