X-IO spinning off Axellio line into new biz
Hits restructure button as 'hyper-competitive' external storage race speeds up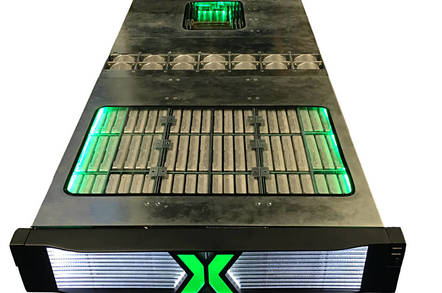 Exclusive X-IO Technologies is spinning off its Axellio flash array tech into a separate company as it prepares to stop investing in a market share bun fight with the existing ISE and iglu products.
The company has sold in excess of 8,000 ISE flash and flash/disk arrays, and iglu storage data services products, to more than 1,500 customers worldwide. Its Axellio technology re-invents the flash array with lower latency server connectivity using PCIe switches and NVMe drives. X-IO has sold this via OEMs, ODMs, and System Integrators rather than the reseller channel which is used for the ISE and iglu products.
Axellio has a growing future in X-IO's view, but the price fight in the volume flash array space does not, marketing VP Ellen Rome said.
"We determined that making large investments and incurring losses to attempt to grow market share in a hyper-competitive shrinking external data storage systems market is not a winning strategy."
"Our of our key goals is to serve our loyal and happy channel partners and customers. They will continue to have access to our products and support, but rather than fight for new customers, we will invest our energies in new technologies such as our Axellio Project, new markets and strategic partnerships."
The pace of change in the flash array space is accelerating with the arrival of the mainstream storage vendors and consolidation among the start-ups, trends that typically signal a margin war. The flash array market's focus is shifting toward lower access latency, with Fibre channel SAN-accessed flash arrays deemed not to be the way forward.
Newer products will tend to be server-attached, and form part of hyper-converged systems. X-IO has determined the best route to sell this tech is through OEM, ODMs and SIs.
Gavin McLaughlin, VP for OEMs and Alliances, said those trade customers' reaction to the Axellio tech had been entirely positive, but he's bound to be enthusiastic. He also said that dedupe, for example, is still a developing ISE/iglu technology.
X-IO will continue to support ISE and iglu customers and associated channel partners, and advance the technology, at least to an extent, while it works on advancing Axellio sales through this separate company.
McLaughlin also said that it may be that ISE and iglu, the rest of X-IO, may move to a second separate company as well but the situation is still under review.
No job losses have been announced. X-IO is understood to be working on setting up a couple of strategic relationships that are designed, McLaughlin said, to help ensure the interests of its personnel. There could be more information about this and the ongoing X-IO organisational changes in a week or so.
McLaughlin will work part-time on progressing the go-to-market aspects of Axellio and is setting up his own, independent go-to-market consultancy for suppliers and startups in this area. ®
Sponsored: Becoming a Pragmatic Security Leader