T-Mobile US gobbles up another 2.2m customers
Its secret? Be a little nicer than Verizon or AT&T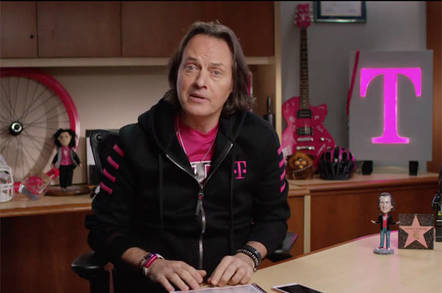 For yet another quarter, "uncarrier" T‑Mobile US has shown that there is money to be made in giving customers what they want.
Its revenue for Q1 2016 was up on the year-ago period to $8.6bn, beating analysts' expectations:
Revenues: Up 10.6 per cent year-on-year to $8.6bn. Service revenues up 13 per cent year-on-year to $6.6bn.
Net income: $479m, up from $297 last quarter and a loss of $63m in Q1 2015.
Gross margin: 42 per cent, up from 35 per cent last quarter and 24 per cent a year ago.
Earnings per share: 56 cents, up from 34 cents last quarter and a loss of nine cents a year ago.
The mobile phone company's US division continues to add subscribers at a growing rate – 2.2 million of them in the past quarter alone – by removing the aspects of their current contracts that most frustrate them.
T‑Mobile US and its vibrant CEO John Legere:
Do not tie their customers to long-term contracts.
Offer flexible data plans.
Roll out new features focused on improving customer experience rather than increasing the company's bottom line.
It has also cleverly highlighted its competitors' efforts to squeeze as much revenue from every customer by offering to pay the fee those companies charge to let people out of their contracts.
The result has been a million new customers every month for the past 12 quarters, and each quarter for the past year it has grabbed two million or more new customers, many of them from its competitors.
In mid-2015, T‑Mobile US surpassed Sprint to become number three in the USA's mobile phone market, but even with 65.5 million customers, it still has some way to go to catch up with market leader Verizon, which has around 135 million customers, and AT&T with roughly 125 million.
"We continue to lead the industry in net customer additions," Legere said on a call announcing the results. "We're also likely to come in way ahead of the pack in service revenue and adjusted earnings growth." ®