Cloud gear biz Outsourcery is running out of cash. Again
We've heard this one before. Get the begging bowls out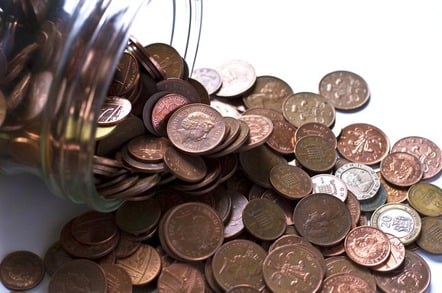 Misfiring AIM-listed cloud provider Outsourcery appears to be running out of runway. Sales still haven't matched the predicted highs, cash flow is drying up again and a crash seems possible.
The purveyor of infrastructure, software and unified comms clouds has pre-announced its calendar year 2015 results, with revenue up nine per cent year-on-year to £8.1m, albeit short of the expected £8.5m haul, which was itself clipped from earlier forecasts of £11.1m.
This means sales for the second half of the calendar year were £4m, versus £4.1m at the half-way stage, indicating that the business had, if anything, lost ground. No wonder industry veteran Emma de Sousa decided not to join the company after all.
Outsourcery management put on a brave face and blamed the shortfall on "further partner product delays outside of Outsourcery's control".
Adjusted losses from continuing operations – this is even before restructuring costs, employee share based payment costs and listing fees – was £6.2m compared to £6.3m in the prior year.
Gross cash at the end of the period was £900,000 versus £2.5m in the year previously, and, based on this, Outsourcery said it will "require further funding for short-term working capital".
As such the company is "investigating alternative solutions" that include "fundraising, restructuring and the disposal of non-strategic business assets".
Outsourcery said it is talking to the principal secured lender to agree certain consents for an "appropriate solution" to be put in place that will provide working capital for the ongoing unified comms biz.
This is not the first time the Manchester-based firm has gone cap in hand to new or existing investors, including Vodafone and Lawrence Jones, boss of UKFast – the co-founders even worked for free in 2014 when the firm encountered liquidity issues.
The folk at well-respected analyst firm Megabuyte, today asked if the "end is nigh?" for the cloudy biz, claiming that with a market cap of £4m new equity funding would be "very dilutive" and new debt will be "increasingly hard to raise given lack of cash flows".
The analyst said Outsourcery is "beholden" to major partner Vodafone, which provided a £4m debt facility last summer. The direct sales arm beefed up a while back is not yet bearing fruit.
"Ultimately, despite the fact that Outsourcery says that it expects a solution to be found, it feels like its days are numbered in its current form, with a sale (to Vodafone, UKFast?) one possible solution," said Philip Carse, Megabuyte partner and principal analyst.
Outsourcery's share price fell today by more than 35 per cent to 6.50 pence. The firm floated in 2013 and peaked at 130 pence in May that year. ®
Sponsored: Becoming a Pragmatic Security Leader