US intercepts Bermuda Triangle bubble podule
Coast Guard scuppers adventurer's floating hamster wheel jaunt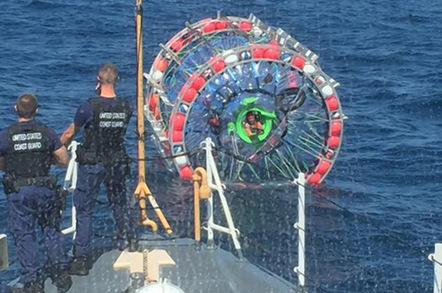 An adventurer's audacious plan to venture forth from Florida into the Bermuda Triangle in a "hydro pod bubble" came to a premature end on Sunday when the US Coast Guard intervened to scupper the "inherently unsafe voyage attempt".
Iranian Ray "Reza" Baluchi, 44, was on his second attempt to conquer the ocean aboard his hamster wheel-style plastic podule. In 2014, a first pop ended with a helicopter rescue 70 miles offshore at a cost of $140,000.
Accordingly, Baluchi was warned not to set sail again without a support boat, under pain of imprisonment and a $40k fine. However, despite his assurance that he'd organised a suitable vessel to accompany him for his second trip, he was intercepted seven miles off the coast at 2am on Sunday with "no sign of a trailing watercraft".
Baluchi "voluntarily ended his voyage", according to the NY Daily News, and was towed back to shore.
Coast Guard Captain Austin Gould said: "This was an inherently unsafe voyage attempt that put the lives of Mr Baluchi and other mariners in danger."
Baluchi describes himself as and "Ultra Marathon runner" on a mission to "to run thru all 194 recognized countries in the world to inspire us and unite us as a people". ®