Dell looking at higher debt mountain to buy EMC
Product overlap reduction cost-cutting possibility could be top-of-mind post-acquisition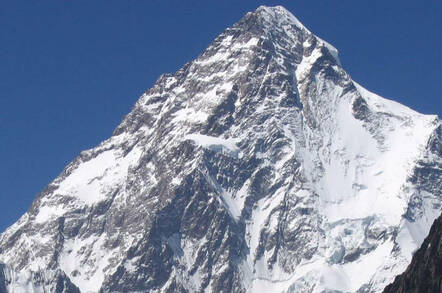 Dell is facing its EMC acquisition debt mountain growing yet higher because the Wall St bond market will need higher interest payments to fund the deal.
That could highlight product overlap costs to ex-money man David Goulden who will run the new Enterprise Systems Group, covering its servers, storage, networking, converged infrastructure and solutions.
The WSJ reports the weakish quarterly results at Intel and the "poorly received debt sale by disk-drive maker Western Digital Corp. are building expectations of higher yields for Dell's coming debt issuance."
The SecureWorks IPO is now priced at $14/share instead of the original $15.50 - $17.50 range, thus reducing Dell's future debt needs less than it must have hoped.
Financial analysts reckon this could add tens of millions of dollars to Dell's annual interest expense, and that could turn Dell bean counters' minds to ongoing cost-reduction ideas.
Comment
Obviously shared back-office functions will provide some of this, but that stuff is relatively easy. What stands our like a gigantic sore thumb is product overlap. Here is an overview table showing some of this: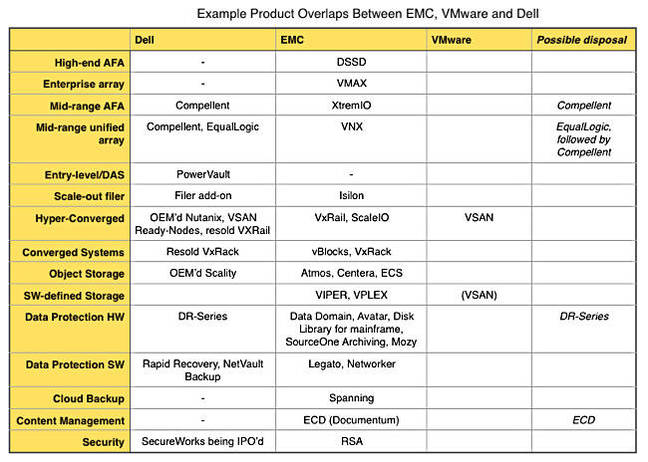 As soon as this table is scanned, the amount of overlap just leaps out – in fact it can seem perverse:
What systems company needs four mainstream backup software products?
Ditto three mid-range arrays?
Ditto two mainstream data protection appliances?
Ditto four hyper-converged offerings?
We've suggested some possible product disposals in the right-hand column.
Neither Dell nor EMC/VMware execs are saying anything about product overlap reduction right now, but then they wouldn't, would they? It's not in their interests to turn off the product revenue flow taps, or spark wholesale staff CV despatch to the army of avaricious recruiters out there.
But if you are a senior money person inside Dell, the opportunities for cost-savings are mind-bogglingly huge, and many are obvious.
Ex-EMC CFO, and now EMC II CEO, David Goulden, will be responsible for the enterprise storage offerings. His cost base will include EMC's storage array engineering sites and their staff, the Compellent Minneapolis site and staff, and the EqualLogic New England site and costs. These are huge numbers considering the real estate involved, the installed equipment and the hundreds of people employed.
Even a six-year-old with a calculator could realise that VMAX, VNX and Isilon bring in the big storage money, and that Data Domain wipes the floor with Dell's DR series as far as takings are concerned.
So, the six-year-old, and financial analysts, and we say: what about this gigantic costly elephant in the Dell-EMC room that no one is talking about? Come 2017, when the post-acquisition dust has settled, and a new financial year has started, budgets will be cut, debt payments perused, and, as sure as eggs are eggs, the bean counters will look at these things, purse their lips, and say, er …… ®
Sponsored: Minds Mastering Machines - Call for papers now open