Business gadget-makers eyeing modular LG G5 smartmobe
Projectors and credit card readers under consideration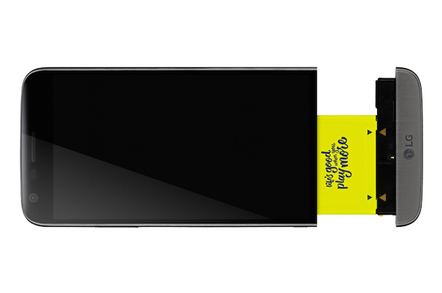 LG has conducted a developer day to interest gadget-makers in developing third-party modules for its LEGO-like G5 smartphone.
When we first set eyes on the G5 we called for LG to enable a proper ecosystem for the device. LG officials The Register spoke to at the phone's Australian launch today said an effort to do so is now well and truly under way.
LG did not wish to disclose details discussed at the developer event, but did reveal that peripheral proposals included a snap-in projector it is hoped will relieve sales people of needing a laptop to deliver presentations. A credit card reader has also been discussed and monster batteries have been raised.
LG's pitched the G5 squarely at consumers, but officials we spoke to today are keenly aware of the phone's potential in business, as a modular phone is seen as a way to provide specialist functionality for phones used in niche applications. Organisations that aren't quite willing to sign up for phones-as-a-service from carriers or specialists and want the ability to do some repairs or upgrades are also on the company's mind.
In Australia, the phone comes with an offer that will interest individuals and businesses alike: a free replacement screen if the display is accidentally broken in the first six months after purchase. The offer only applies for phones bought for the next few months, but LG sees it as an extension of the phone's modular concept.
Let's hope the offer causes hordes of people to buy the device: it would be lovely if a market for free replacement screens emerged as a result. ®