Aussie boffin turns up REAL root-rat
Indonesian Gracilimus radix adds a new genus to rats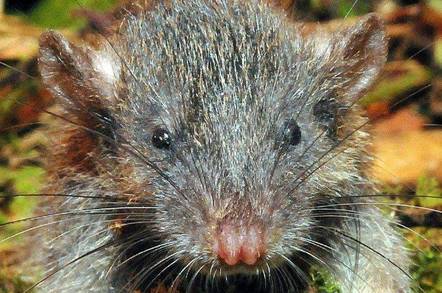 If the newly-documented forest-dwelling rat happens to be an omnivore whose diet includes roots and it's described by an Australian-led team, of course it will get called a "root rat".
The "discovery" (I put it in scare-quotes because locals already knew about the creature – they led the biologists to it) was made by Museum Victoria scientists and an international research team working in a remote part of Indonesia.
The museum explains that Gracilimus radix, the Slender Root Rat, represents a new genus, with its closest relative being the Sulawesi water rat, Waiomys mamasae, which the same team turned up in 2014.
The 30 cm-long rat weighs about 40 grams, and unlike its carnivorous water rat cousin, it eats both insects and roots.
The remote, mountainous Mount Gandangdewata region in Sulawesi Island has been extraordinarily fruitful for the team, with four mammal species discovered there since 2012. Members of the group include Dr. Kevin Rowe (Museum Victoria); Anang Achmadi (Museum Zoologicum Bogoriense); and Dr. Jacob Esselstyn (Louisiana State University Museum of Natural Science).
The team was aided by local villagers from Rantepangko in the central Sulawesi town of Mamasa, who guided the team into the remote forest camp.
The ongoing biodiversity studies in the area will form part of a submission to Indonesia's Departments of Forestry, National Parks and Research, to support the case for formal conservation efforts of the area. ®