Video folk, you'll love the 96TB, 2.6GB/sec LaCie 12big HDD
Thunderbolt 3 compatible external drive? Ooh, nifty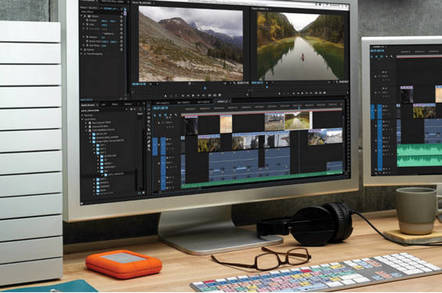 Seagate's LaCie external storage drives unit has come up with a video editing workstation user's wet dream: 96TB capacity and 2.6GB/sec throughput from a Thunderbolt 3-accessed desktop tower.
The 12big Thunderbolt product features:
12 drives bays and 8TB, 7200rpm drive support
RAID 5 and 6 support from RAID hardware controller
Thunderbolt 3 IO running at 40Gbit/s
2,600MB/sec bandwidth (2,400MB/sec with RAID 5)
256MB cache
Four thermo-regulated fans
Included USB-C to USB-A cable
Front drive status LEDs for drive health and RAID build status
The Seagate drives are built for 24/7 operation; 8,760 hours a year, and the system comes with a five year warranty.
With Thunderbolt 3 a user can daisy chain dual 4K displays or a single 5K display to the LaCie 12big. It's possible to provide power to a compatible laptop through the Thunderbolt 3 cable.
The systems is suited, LaCie says, for the processing of data from 4, 5, and 6K cameras. With this storage sub-system speed and "for big projects packed with high-def clips, thumbnail and preview rendering becomes much more responsive."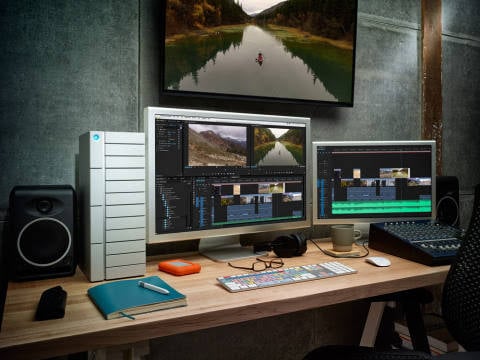 Video workstation set-up equipped with LaCie 12big desktop tower
The LaCie 12big will be available this summer in 48TB, 72TB and 96TB capacities through the LaCie online store and LaCie resellers. Pricing is unlikely to be cheap. ®