Why we should learn to stop worrying and love legacy – Fujitsu's UK head
You say old IT system, I say finely tuned technology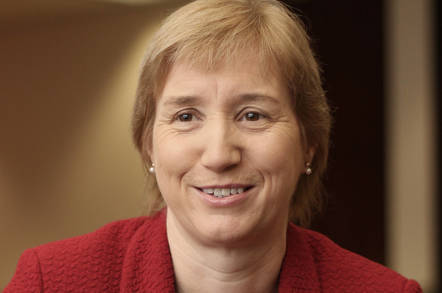 Interview In the UK, IT Godzilla Fujitsu is perhaps best known for its unwieldy public sector contracts, being responsible for running a sizeable chunk of the government's legacy technology.
Indeed most of its UK and Ireland revenue has historically come from the public sector, some 70 per cent at the beginning of the last Parliament in 2010. It's a split the company has been keen to rebalance, says UK and Ireland chief exec Regina Moran.
"Many of our new deals have been in the private sector, so we are now closer to a 50/50 split, in line with our strategy for greater stability and less over-reliance on one sector over another," she says.
Cynics might observe that is a wise move, given the public sector's sentiments toward big suppliers such as Fujitsu. Former Cabinet Office minister Francis Maude made no secret of his intention to break "the powerful IT oligopoly" – and since the last Parliament, Fujitsu has lost three contracts with the Cabinet Office, the Treasury and the Department of Environment and Climate Change.
Reports also suggested the supplier won its £700m legal dispute with the NHS in 2014 over the cancelled National Programme for IT contract. However, neither party would confirm the settlement. But Moran reckons the rebalancing of the business would have happened regardless – as the private sector presents more opportunities for growth.
Global revenue has remained flat for the last few years, with turnover of ¥4,753bn (£28bn) for the full-year 2014/15. Sales in Europe, the Middle East, India and Africa increased slightly more, rising from £6bn in 2013 to £6.4bn.
Moran says this year there's been a marked increase in turnover, with the company poised to release its full-year financials for 2015/16 this month. The public sector business has remained steady.
Not surprisingly, she is keen to point out while the company has lost some big government deals, it has also won some, too – in particular a £550m deal with the Ministry of Defence in 2015 for global connectivity service, and another £933m under a consortium of suppliers for a renegotiation of the original extension of the Defence Information Infrastructure (DII) contract.
According to Moran, the company is also winning "digital" contracts, too – including the digitisation of a number of train companies' front-end ticketing systems, as well as a transformation programme with the Children and Family Court Advisory and Support Service.
"That proportion of business [is] growing everyday ... we have a lot of demand to digitalise the front end of those legacy systems – rather than full legacy modernisation."
Moran believes digital and legacy are not mutually exclusive. "Some people use the term fast and slow IT. But I don't actually like that term myself."
She says there needs to be a compelling reason for a complete system overhaul – and it may be the case that parts of the system can be digitised while retaining the core 20-year-old infrastructure.
"Because sometimes there is immense value locked into those systems in terms of fine tuning and operational efficiency. So it is a bit like, don't throw the baby out with the bath water. It's not as if those systems have just sat there for decades, many have been fine-tuned over a considerable period by very good engineers. The ageing skills issue is more relevant in terms of people to service them."
Staff need to be trained in how to maintain those systems, to avoid losing those skills. "Saying 'who wants to be trained in old technology' is not very attractive, but actually the question is training people in mission-critical technology. And if you can combine that with digitalised parts of the value chain, that will add value to the employees of that organisation."
Nevertheless, in 2013, the National Audit Office warned of the dependency of legacy systems, stating that £480bn of the government's operating income is reliant on legacy. "A particular risk is that departments dependent on legacy IT will find it more challenging to achieve the business transformation envisaged by the government in its digital strategy," it said.
And it's not just the public sector that is struggling to manage its legacy. Many financial institutions face the huge challenge of navigating pre-web era systems.
But bad legacy might actually be bad processes, she says. "Maybe it's not just a system issue, maybe it's a people and process issue. If you automate an inefficient process it is still inefficient. So we need to take a holistic view."
She believes big organisations are still going to need huge computing power for some time, such as HMRC's systems for processing millions of taxpayers.
Although HMRC is in the middle of breaking up its mega IT system with Capgemini and Fujitsu, which has been described as one of the largest civil IT contracts in Europe, insiders say Fujitsu has managed to hang onto more than half of its contract.
Moran reckons the government is always going to need companies like Fujitsu, as long as they are meeting its needs. "We hope to carry on working with HMRC beyond 2020 – we've got to prove we have value beyond that."
However, she agrees that the days of large contracts are probably gone – a global trend that cuts across sectors. "Different business models are emerging; there's a blurring between sectors."
Working harder to get more business is not a problem, apparently. "It is hard to win business anyway, it is a very competitive environment, but sometimes small contracts can lead to big things."
The skills of the business will be in demand for a while. "System integration skills are really key. Being able to knit it all together and deliver outcomes – it is quite an engineering feat."
Although she acknowledges that legacy is not immutable. "Over time, some technology might make the system irrelevant: which is fine. But we shouldn't necessarily assume something is irrelevant because it is old." ®
Sponsored: How to Process, Wrangle, Analyze and Visualize your Data with Three Complementary Tools