Intel takes aim at Arduino with US$15 breadboard
Internet of Things We're Gonna Crush Next?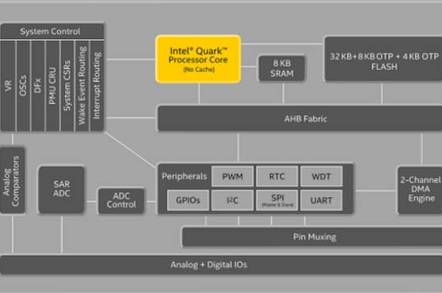 Having nominated the Internet of Things as key to its future strategies, Intel has added a super-cheap development board to its Quark lineup.
At US$15, the Quark D2000 microcontroller development kit is Chipzilla's latest attempt to plant a flag in the cheap-as-chips breadboarding market.
It features a 32 MHz low-power core, 32 KB of integrated flash, a six-axis combination compass and accelerometer, temperature sensor, USB port, and a shield interface compatible with the Arduino-Uno.
For software development, there's the Eclipse-based Intel System Studio for microcontrollers, including the GNU compiler collection (GCC), Intel Integrated Performance Primitives for microcontrollers, Intel QMSI (a support package for the microcontroller's software interface), and a bunch of sample applications.
In a recent executive shake-up Chipzilla lost its IoT boss Doug Davis, but it's still so keen on the division that it made it distinct reporting line for future financial statements.
Since Intel's clearly hoping the board will be an ARM-killer in maker/IoT development, here's a quick feature comparison with the Arduino Uno:
| | Intel Quark SD2000 | Arduino Uno |
| --- | --- | --- |
| Processor | Intel Quark | Atmega328P |
| Clock speed | 32 MHz | 16 MHz |
| Flash | 32 KB | 32 KB |
| SRAM | 8 KB | 2 KB |
| USB | Yes | Yes |
| Accelerometer | Yes | No |
| Supply Voltage | 2.0 - 3.3V | 7 – 12V |
| List price | $15 | $22.56 |
For US customers the device will be available from Mouser Electronics and Avnet. ®
Sponsored: Becoming a Pragmatic Security Leader