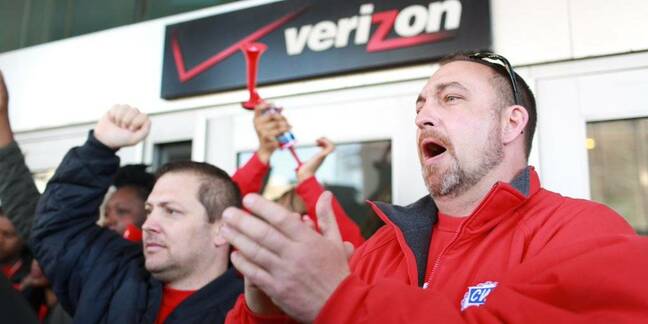 The workers who handle Verizon's wireline services in the Eastern US have gone on strike.
At 6:00am local time Wednesday morning, the Communications Workers of America (CWA) said that members in districts ranging from Maryland and Delaware up through New York and New England were officially on strike barring failed negotiations with the telecom giant.
The union cited labor issues including overtime pay, wages, pensions, and the use of outsourced contractors to handle support calls among the reasons its workers were walking off the job and picketing Verizon.
While the striking workers are mostly those who handle the copper and fiber wired lines, some wireless employees have also joined, allowing the CWA to hold picket lines outside of Verizon retail stores.
The phone giant said that it does not expect any of its services will be affected by the work stoppage.
"Let's make it clear – we are ready for a strike," president of wireline network operations, Bob Mudge, said.
"With any sort of job action or disruption to our business, our primary goal is to ensure our customers can count on the critical communications services that they pay for and we provide."
While the issues cited by the union are mostly related to Verizon's labor deals, the CWA also criticizes the telco's handling of its fiber networks, accusing the company of failing to expand FiOS services despite its own promises and cutting jobs in the process.
"Verizon workers, who are ready to help install promised FiOS lines, the high-speed broadband service, are also frustrated with the company's delay in providing the much needed service to customers," the CWA claims.
"For years, Verizon has been cutting vital staff – it has nearly 40 per cent fewer workers now than a decade ago – and has failed to hire the personnel necessary to properly roll out the service."
Verizon has been criticized in the past for its handling of both FiOS and copper lines, with groups accusing the company of neglecting the copper lines and trying to force customers into ordering FiOS or wireless services.
Verizon has countered that the reports were strategic moves by union leaders who are unwilling to negotiate with Verizon.
"Since last June, we've worked diligently to try and reach agreements that would be good for our employees, good for our customers and make the wireline business more successful now and in the future," chief administrative officer Marc Reed said of the strike.
"Unfortunately, union leaders have their own agenda rooted in the past and are ignoring today's digital realities. Calling a strike benefits no one, and brings us no closer to resolution."
The CWA, naturally, objects to that notion.
"We saw under Verizon CEO's leadership, including Marc Reed, our members were forced to strike for a fair contract 100 per cent of the time in the last 2 contracts," the union said. "Enough of the bullshit, scare tactics and lies!"
Meanwhile, US presidential wannabe Bernie Sanders showed up to a Verizon picket line to give workers a pep talk. ®
Sponsored: How to simplify data protection on Amazon Web Services