Vulture conservationists hatch cunning 3-D printed egg plan
Breeding programme benefits from Microduino-packed sensor podule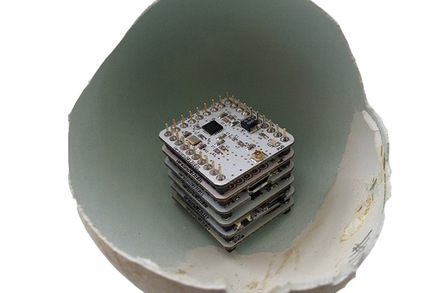 Devastated vulture populations in India, Nepal and Pakistan are being pulled back from the brink of extinction thanks to an artificial breeding programme agreeably assisted by a 3d-printed egg packed with diminutive Microduino microprocessor kit.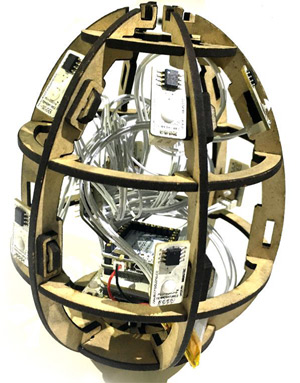 According to Microduino, the International Centre for Birds of Prey (ICBP) got in touch to request an artificial vulture egg which could be stuck in a nest and used to monitor conditions as the mum-to-be cared for her proto-offspring.
Critical considerations were an entirely natural-looking egg, able to be left unattended over the 70-day hatching cycle while transmitting data for remote analysis.
The solution is a Microduino Core Module, Bluetooth Module and Multisensor Module, 14 temperature sensors, a humidity sensor and a 1,800mAh lithium ion battery encapsulated in a 3D-printed shell supported by a wooden skeleton (right).
Data is transmitted via Bluetooth to a nearby "Data-Relay Terminal" (pictured below), comprising a receiving Blutooth low-energy module, Wi-Fi enabled Raspberry Pi - to store the incoming data - and a Microduino Core+ and Microduino Weather Station module combo.
From the terminal, a net connection allows the vital statistics to be uploaded to a cloud server.
As we reported on Vulture Awareness Day last year, there are 23 species of vulture in total: 16 "Old World" members in Africa, Asia, and Europe (family Accipitridae), plus seven "New World" representatives in the Americas (Cathartidae).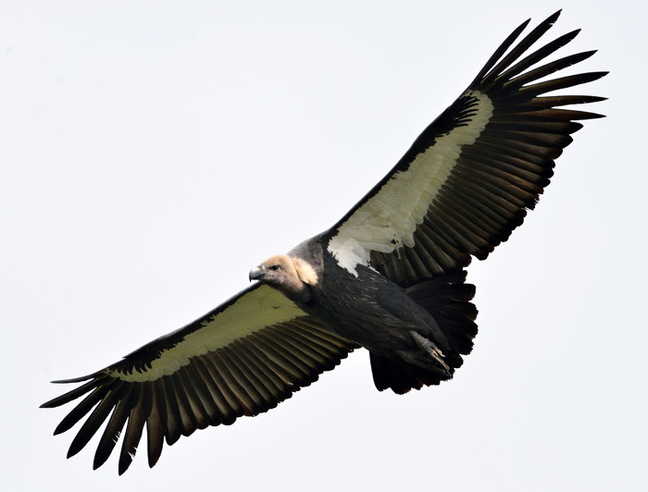 Fourteen of these are under threat, including the oriental white-backed vulture (Gyps bengalensis, seen above in all its soaring majesty), which is heading for extinction in the wild in India and southeast Asia. It's been hard hit by the use of Diclofenac,* an anti-inflammatory drug for cattle. Birds feeding on carcasses tainted by the drug succumb to fatal kidney damage.
The ICBP's breeding initiative includes the oriental white-backed vulture and two other species affected by Diclofenac - the long-billed vulture (Gyps indicus) and the slender billed vulture (Gyps tenuirostris).
At present, the programme has 260 captive vultures - 10 per cent of them captive bred - at three centres in India, and one each in Nepal and Pakistan. Efforts are ongoing to improve incubation and rearing techniques, and it's hoped that the Microduino egg will assist in that process. ®
Bootnote
*Banned in India, Nepal and Pakistan in 2006, and in Bangladesh in 2010, Saving Asia's Vultures from Extinction (SAVE) explains. However, it "continues to be sold and used illegally today".
Sponsored: How to Process, Wrangle, Analyze and Visualize your Data with Three Complementary Tools