Texas Attorney General charged in 32-bit 'eco-friendly server scam'
Servergy CEO also hauled over coals after system claims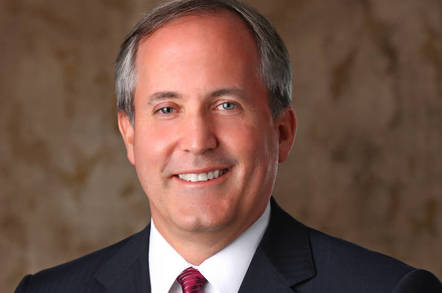 The US Securities and Exchange Commission (SEC) has charged the CEO of Texas server manufacturer Servergy, one of its board members, and the state's Attorney General with fraud over claims of revolutionary low-powered computer hardware.
The SEC alleges that between 2009 and 2013 Servergy's then-CEO William Mapp misled investors about the capabilities of the firm's Cleantech CTS-1000, saying it could deliver 80 per cent power savings against equivalent kit. One problem, however – it didn't even come close in reality.
In an official complaint [PDF], the SEC noted that Servergy's sales documents showed the CTS-1000 performing well against servers from HP, IBM and others. It neglected to mention that the CTS-1000 was an obsolescent 32-bit rack server and was being compared to 64-bit blade servers. The Cleantech kit could never keep up with newer rival hardware.
Mapp is also accused of misrepresenting sales. His business had one order of new hardware, but Mapp claimed he had booked millions of dollars worth of orders from a variety of companies, including saying Amazon was making a major buy after one of its staff requested more information on a server for his personal use.
In addition, Mapp paid former Servergy director Caleb White a commission for obtaining new investors – something White failed to declare to said investors, which is against the law, says the SEC.
Mapp also gave 100,000 shares in the company to Ken Paxton, then a Republican member of the Texas House of Representatives and now the state's attorney general, in exchange for bringing in new investors. Like White, Paxton did not declare to investors that he had pocketed the shares, it is claimed.
In all, Mapp and his associates sold $26m in stock to private investors in the company, some as young as 19, and most of whom had no idea that the biz wasn't producing hardware with the claimed benefits, according to the SEC.
"We allege that Mapp deceived investors into believing that Servergy's groundbreaking technology was generating lucrative sales to major customers when it was technologically behind its competitors and made no actual sales," said Shamoil Shipchandler, director of the SEC's Fort Worth Regional Office.
"People recruiting investors have a legal obligation to disclose any compensation they are receiving to promote a stock, and we allege that Paxton and White concealed the compensation they were receiving for touting Servergy's product."
Paxton raised $840,000 for the company by contacting friends, associates, and other investors, it is claimed. Paxton told investigators he met Mapp at a Dairy Queen restaurant in McKinney, Texas, in July or August 2011 and offered to invest $100,000 of his own cash, but was turned down by Mapp.
"I can't take your money. God doesn't want me to take your money," Paxton claims Mapp told him. Instead he accepted 100,000 shares in Servergy from Mapp as "a gift." Servergy's stock filings noted the shares as payment for "services."
Caleb White has agreed to return the $66,000 and 20,000 shares of Servergy stock he was paid in commissions in exchange for charges being dropped. Servergy itself has paid the SEC a $200,000 fine and has said it considers the matter closed.
The SEC is pursuing charges against Mapp and Paxton, and the two face trial in the District Court for the Eastern District of Texas. Mapp and Paxton have denied any wrongdoing. ®