Europe's biggest radiotelescope in fast-burst-finding upgrade
Square Kilometre Array tech from Oz will increase sensitivity of Bonn's Effelsberg dish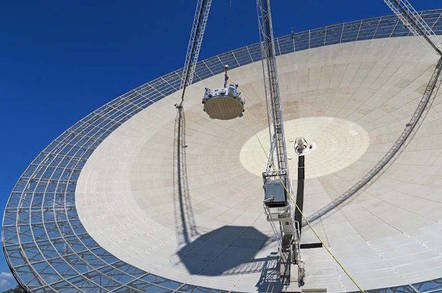 One of the world's largest fully-steerable radiotelescopes, the Effelsberg radio dish at the Max Planck Institute for Radioastronomy in Bonn, is to get an upgrade using technology developed by Australia's Commonwealth Scientific and Industrial Research Organisation (CSIRO).
A phased array feed (PAF), currently undergoing testing and calibration at the Australian' agency's Parkes radiotelescope, will be set to work trying to spot one of astro-boffins' favourite phenomena, fast radio bursts.
The CSIRO PAFs were developed as part of Australia's prep-work for the Square Kilometre Array, the SKA Pathfinder. The agency developed its own PAFs, because existing technology was too expensive and didn't have the field of view or the sensitivity needed for the SKA.
Max Plank Institute for Radioastronomy director professor Michael Kramer says the field of view is particularly important for a fast radio burst search.
"When we previously searched for Fast Radio Bursts we had to be looking at just the right moment in just the right part of the sky to see them. Having one of these new PAFs means that we immediately increase our chances of seeing one," he said in CSIRO's media release.
There's an extra wrinkle to handle in the German environment: compared to the SKA (which will be in one of the most radio-quiet spots in Australia) and Parkes (in a country town location), the Effelsberg site is in a high-noise environment.
The PAF will need extra calibration to cope with that environment, and the Effelsberg dish's size will also allow astronomers to test the PAFs in a "brand new environment", professor Kramer said.
"Once all the testing is complete, the PAF will be available for researchers all around the world to access as part of the 'open skies' access policy. And as you can imagine, our astronomers are earnestly awaiting to see what their PAFs are capable of when viewing the galaxy from the top half of the planet", he added.
In parabolic antennas, phased arrays replace the feed horns more commonly used at the focal point of the dish. They expand the telescope's field of view because they're much better at capturing off-axis information. ®
Sponsored: Detecting cyber attacks as a small to medium business