Bavarian town rescinds Hitler's honorary citizenship
Tegernsee finally gets with the programme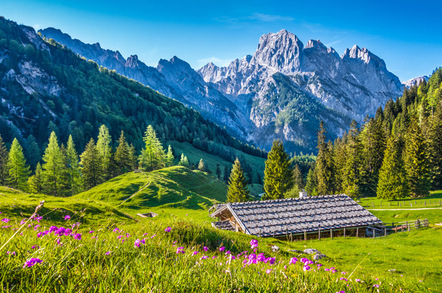 A Bavarian town has somewhat belatedly voted to rescind vegetarian dog-lover Hitler's honorary citizenship, a mere 71 years since the Führer and his missus went up in smoke in the Reich Chancellery garden.
By unanimous vote, the town council of Tegernsee stripped Adolf of the honour, along with the same bestowed on former prez Paul von Hindenburg, who appointed Hitler Chancellor of Germany in January 1933.
According to The Local, mayor Johannes Hagn's only explanation for the decision to act now is because the good burghers of Tegernsee wished to "to make up for lost time".
Councillor Peter-Friedrich Sieben did, though, say that the gesture was "important symbolically" at a time when Germany's right is once again "on the march".
That Hitler hung in there for so long is apparently because "after the war, honorary citizenship was automatically taken away from those who had been convicted of war crimes".
Since neither the Führer nor von Hindenburg were ever called to legal account for their actions, they escaped the axe.
Back in 2013, the Bavarian town of Dietramszell similarly stripped Hitler of his honorary citizenship, although the initial vote was deadlocked because those councillors against the move claimed "it was not up to them to rewrite history". ®
Sponsored: Practical tips for Office 365 tenant-to-tenant migration