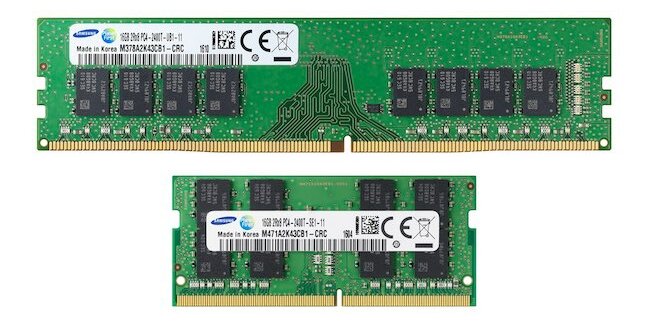 Samsung Electronics has announced it's started baking RAM using a "10-nanometer (nm) class*" process and says the 8GB chips it's emitting are the first in the world to be manufactured in this way.
Don't start trying to figure out how 10nm compares to the width of a human hair or the head of a really small pin, because that asterisk up there is Samsung's and leads to a disclaimer to the effect that "10nm-class denotes a process technology node somewhere between 10 and 19 nanometers, while 20nm-class means a process technology node somewhere between 20 and 29 nanometers." Samsung's not saying just how big, or small, this RAM is.
Even if Samsung is building at 19.9999999999 nanometers, the product is impressive because it involves "quadruple patterning lithography" and "ultra-thin dielectric layer deposition". The former technology is all about doing more at smaller scales, so that chips end up with a higher "resolution" of features. The latter is about getting useful substances into useful places and in the case of this DRAM means getting insulators in place to stop current leaking.
Samsung's promising 10nm RAM in modules from 4GB to 128GB, the former for laptops and the latter for servers. All should hum along at 3,200 megabits per second while using about ten or twenty per cent less power than their bulk and clumsy 20nm predecessors.
128GB RAM modules will be very welcome for those who operate servers at scale, as they will allow lovely loads of memory. Whether that will still matter once storage and memory all-but merge is anyone's guess. While we wait for that to happen, server-wranglers can dream of amazing density, gamers can dream about even faster fragging and laptop-luggers can dream about being expected to work everywhere, all the time, with even battery life removed as an excuse for not answering emails. ®
Sponsored: Webcast: Discover and secure all of your attack surface