Waiting for your Oculus to arrive? Yeah, it's going to be some time
Oh, and don't read the terms and conditions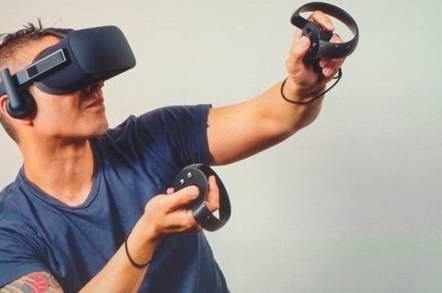 Early purchasers of the new Oculus are going to have wait to get their hands on it thanks to an unexplained delivery delay.
The product's launch last week was timed to coincide with its shipment to customers who have paid $599 for the virtual reality headset. But when a few days later nothing arrived in the mail, users started complaining.
When those complaints piled up, Oculus cofounder and CEO Brendan Iribe said on Twitter that the first shipment of headsets had been delayed. To make up for it however, he announced that shipping would be free.
Facebook - which bought the company for $2bn in 2014 - hasn't replied to requests about the cause or length of the delay.
The headset has received largely positive reviews from the press, and some of the earliest investors in the project have also got their hands on the new hardware. But that is as far as shipments have got.
In addition, concerns have been raised about the paperwork that comes with the Rift, and whether or not people are giving Facebook a window into their brains.
Very few people read the terms and conditions of a new product, but a few Oculus owners have spotted some passages in the boilerplate accompanying the headset that they don't like. The biggest brouhaha comes from the section claiming the full usage and distribution rights to any Oculus-generated content.
"Unless otherwise agreed to, we do not claim any ownership rights in or to your User Content," the contract states.
"By submitting User Content through the Services, you grant Oculus a worldwide, irrevocable, perpetual (i.e., lasting forever), non-exclusive, transferable, royalty-free and fully sub-licensable (i.e., we can grant this right to others) right to use, copy, display, store, adapt, publicly perform and distribute such User Content in connection with the Services."
Standard
This has become a fairly standard clause for social media which lets the company share your content with anyone, as it does with the standard Facebook page, while at the same time making you responsible if someone sues.
If there is an issue to call in the legal eagles up against Oculus then don't expect to go to court and face a jury. Instead users will be submitting any beefs they have with the hardware in a private meeting rather than court and class action suits.
The T&Cs also claim the right to collect user information, such as where and when the headset is used, even down to the head movements of the user. While that might be worrying to some, it'll be very lucrative for Facebook – ad agencies will pay a fortune to find out what parts of an advert grab someone's attention.
Concern has also been raised about the always-on nature of the headset. The OVRServer_x64.exe function can be used to keep connections with the Facebook server when the headset is not in use, and some people are worried Facebook is trying to listen in on its surroundings.
Facebook has a record here. In 2014, it introduced an opt-in function to do this with web and phone users – listening out for music or TV in the background and displaying relevant adverts. Based on traffic analysis of the headset, this isn't happening as yet, with only a few kilobytes of data going back and forth.
As for sharing your data, Facebook reserves the right to swap the lot with a list of approved companies, including Instagram and WhatsApp. That's pretty standard, since Facebook owns those two, but people will be keeping an eye on the list to see if it grows.
Finally, the Oculus Rift is for adults only, or for kids aged 13 or over with parental consent. This suggests Facebook's legal team has never encountered an inquisitive child, but you have been warned. ®