Frontier rings in Verizon takeover by borking its network
Handover doesn't appear to be going particularly well in three US states
Frontier Communications says that problems related to its takeover of Verizon's internet service led to outages across the three most populous states in the country yesterday.
The company told The Register that errors related to the handover caused a failure early this morning in California, Texas and Florida. Making matters worse in Florida, a severed cable further complicated matters.
"During the early morning of April 1, 2016, a server issue occurred during the integration of the systems Frontier acquired from Verizon that impacted service to some enterprise and carrier customers in Florida, Texas and California.
"As of 9:30 am eastern, the issue was resolved," reads Frontier's statement.
"In addition, an unrelated fiber cut occurred that impacted customers in the Tampa market."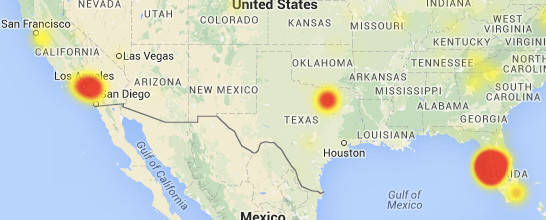 A downdetector image of the outage on Friday morning. Courtesy of Josh Cain
Frontier took over Verizon's FiOS service in all three states thanks to a $10.54bn deal the two companies made late last year. As of midnight last night, Verizon customers are officially on the Frontier network.
This is probably not the first impression they were hoping to make.
Josh Cain, a Reg reader and (new) Frontier customer, said he was located firmly within the impacted part of Florida. He noticed the problem almost as soon as midnight hit.
"I've been getting DNS issues off and on since the swap, it appears others are completely offline," he told El Reg.
Other administrators reported the issues on various outage lists and Reddit forums, all reporting similar problems in the California, Texas, and Florida regions impacting their network connections.
While many initially suspected the issue was caused by AT&T, it was later spotted that those issues were due to the connection points with the Frontier (former Verizon) networks. ®
Our thanks to Josh Cain for the tip
Sponsored: Webcast: Build the next generation of your business in the public cloud