NetApp ain't all that: Flashy figures show HPE left 'em for dust
A truer picture emerges thanks to Gartner numbers
After the news that EMC had topped the all-flash array revenue charts, we learn, courtesy of new Gartner numbers, that HPE also left NetApp for dust.
Gartner kindly sent us their original numbers; we obtained the numbers we used in our previous story second hand.
These new numbers show that HPE did considerably better in the fourth 2015 quarter, beating NetApp by a large margin.
Violin Memory is doing better than Fujitsu, HDS and Huawei, we see, with Huawei poised to overtake it if Violin's revenues continue their downwards trend.
Fujitsu is currently the smallest player amongst the named vendors, with HDS next. It looks as if, in fact, HDS is a minor player, which is unexpected, considering its general presence in the storage market. In the all-flash storage array area it looks to be punching well below its weight. Unless these numbers are inaccurate HDS needs to substantially refresh its flash storage offerings to regain lost ground.
The disparity in revenues between HDS and EMC, Pure, IBM, HPE and NetApp is so great that HDS' best hope may lie in acquiring an existing vendor. Ones that come to mind in the pure (no pun intended) all-flash area are Kaminario and Violin. Buying Nimble, Tegile or Tintri would bring in hybrid arrays which would muddy the waters of HDS' existing integrated storage offerings from a marketing/product positioning perspective.
Here are the tabulated numbers:
Click the table to embiggen the hard-to-read thing. The implied "others" numbers have not been changed to reflect the updated Gartner numbers and so should be regarded as approximate. The Pure Storage numbers come from analysts Stifel Nicolaus.
Any perceptions that Dell's all-flash storage sales are low, being, like HDS', invisible when seen through the Gartner lens, will be dispelled when (and if) the EMC acquisition completes later this year.
Fujitsu's all-flash sales may be similarly distorted by the Gartner ASFA product criteria.
The chart of these numbers shows what looks like a pronounced seasonal effect in the change from 2014's fourth quarter, showing an end of year peak, to 2015's first quarter.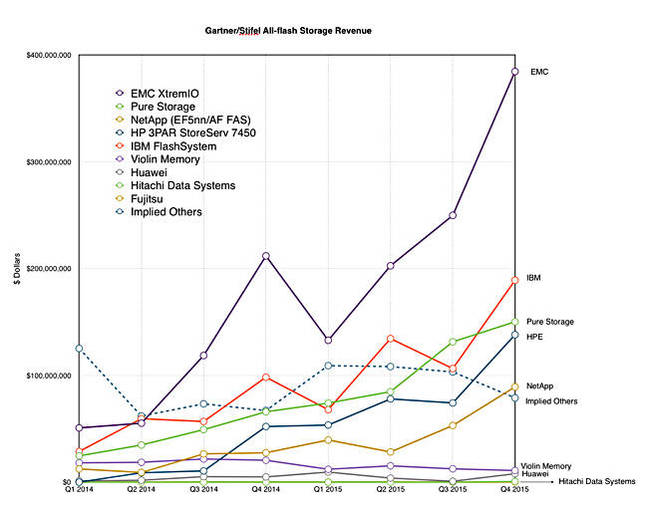 We can see that HPE enjoyed a late 2015 surge that widened the gap between it and NetApp. With NetApp acquiring SolidFire, it will be interesting to see if this gap narrows or continues widening.
Also, if IBM suffers a seasonal drop from its 2015 fourth quarter high, and Pure does not, then Pure could overtake IBM in the first 2015 quarter.
The position of Huawei looks low – artificially low, even. It could be possible that, like Dell, Fujitsu and HDS, Huawei's all-flash storage sales are with products that don't meet the Gartner criteria for identification as a separate all-flash array product. Intuitively, we feel that Huawei's numbers should be higher than Violin's but, possibly, below NetApp's.