Speaking in Tech: Batman vs Superman... absolutely sucked
Plus Pure Storage vs EMC superheroes ... live from the storage woodshed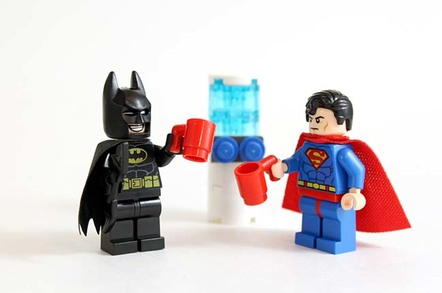 Podcast

Hosted by Greg Knieriemen, Ed Saipetch and Sarah Vela. This week, it's Ed, Greg and Sarah and no guests... just the gang discussing bad superhero movies, listener complaints, Oracle suing Google (again) and Australian bike bells –and taking people out to the woodshed...
Here are the details:
(1:00) Bush League: Mopping up after last week

(7:39) Batman v Superman: The Dawn of Horrible
(10:47) Holiday travel woes pays off
(14:00) Ubering the Republican Convention
(17:00) Vaughn's bike
(18:10) Australian bike bells
(23:17) What happens when an 18 year old buys a mainframe?
(27:16) Listener complaints
(29:31) FLASHBACK: Lite Brite from 1970's
(32:16) FBI cracks the iPhone
(37:58) Java Herpes
(40:15) Dell dumps services
(46:03) Crowd sourcing your job
Listen with the Reg player below, or download here.
Podcast Subscriber Links
Subscribe through iTunes
Subscribe through Google
Subscribe through Stitcher
Feed URL for other podcast tools – Juice, Zune, et cetera: http://nekkidtech.libsyn.com/rss
Sponsored: Webcast: Build the next generation of your business in the public cloud