NetApp dropped the ball by letting EMC gobble Data Domain
IDC stats reveal who's who in the backup appliance bearpit
IDC has published its quarterly confirmation that EMC's Data Domain is crushing the competition in the purpose-built backup appliance market.
The analyst outfit's Worldwide Quarterly Purpose-Built Backup Appliance Tracker for 2015's fourth quarter lists the top five vendors' revenue amounts and shares for both the 2015 and 2014 fourth quarters, and puts EMC firmly at the top with a 67.7 per cent share and $707.9m revenues.
Next is Symantec (Veritas really) with less than a fifth of that, with its $125.1m and 12 per cent share. After that we are in tail-ender territory with IBM at $41.6m and HPE at $40.7m in a tie for third place.
Dell has $23.6m and a 2.3 per cent share in fifth place – and then come the Others: Barracuda; Exagrid; Quantum; and so forth. Read the table below for the rest of the numbers, noting how IBM's share has dropped 38.1 per cent over the year, EMC's has grown 10.6 per cent, and the Others have dropped 12 per cent. Dell has grown its share 16.5 per cent, though, beating everybody else.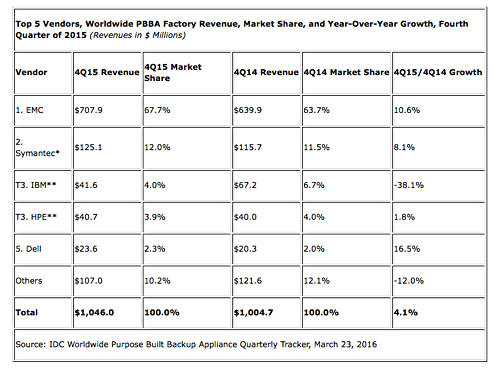 IDC also publishes percentage share figures for all the latest four quarters in stacked bar chart form. We have extracted the numbers from its chart and drawn it in a different way to make the vendors' changes more apparent: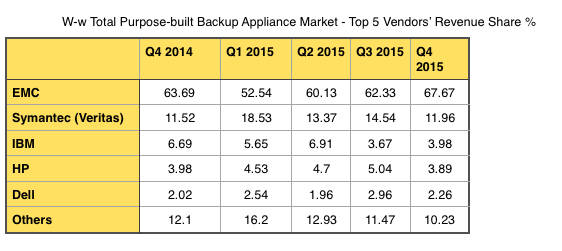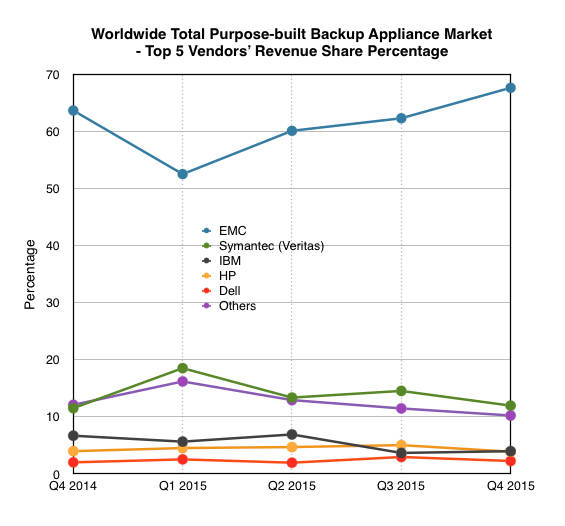 Symantec (Veritas) started this period on a growth track but then slumped. EMC had a blip drop in the first 2015 quarter and then rebounded strongly.
IDC also publishes annual numbers for 2015 and 2014: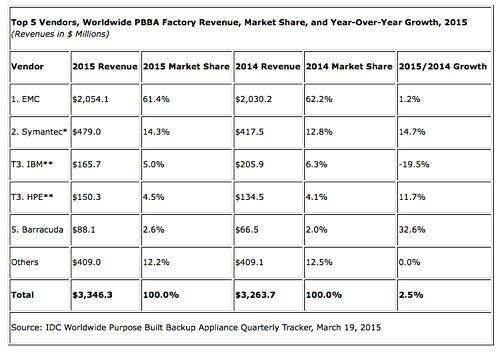 No surprises here, really. We see that Barracuda was in fifth place in 2015, eclipsing Dell and sending it into the Others category, because of a 32.6 per cent growth in its revenues from 2014 to 29015. Over the same period IBM slumped by 19.5 per cent, Big Blue becoming Littler Blue.
With the troubles it's having Barracuda will probably drop back into the Others category. Also, newly independent Veritas has a good base from which to grow in this market.
In summary, Data Domain was the single best PBBA acquisition of all time and it was a stunning miscalculation by NetApp to let EMC win the bidding war. ®
Sponsored: Your Guide to Becoming Truly Data-Driven with Unrivalled Data Analytics Performance