Met police commissioner: Fraud victims should not be refunded by banks
Er... wait, are you going to publish that I said that? I better counter by also publishing it...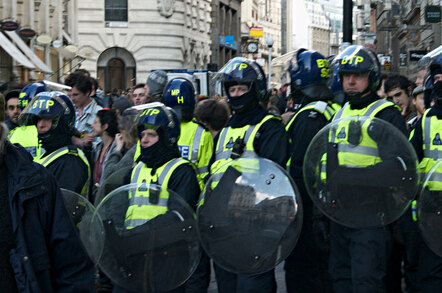 A senior police commissioner has complained that it would be wrong to interpret his comments about preventing online fraud victims from claiming compensation as a proposal for online fraud victims being unable to claim compensation.
Sir Bernard Hogan-Howe asserted that the problem was systemic, telling The Times: "The system is not incentivised for you to protect yourself. If someone were to say, look if you've not updated your software I'll give you half back you would do it. Personally, on my system I've got a propriety* [sic] security software and I got an update a few months ago and it sat there for months, I didn't quite get round to it.
In a statement sent out by the force containing unpublished quotes from the interview, Hogan-Howe claimed that 90 per cent of cybercrime could be prevented "by merely updating your propriety [sic] software." However, banks' haste to refund victims of online fraud has disincentivised consumers "to do anything to protect [themselves]".
"I don't suppose I'm much different to anyone else but I guarantee if someone said to me if your card is done or something happens online I'll give you nothing back, you'd change your behaviour."
You can incentivise people to protect themselves. My broad point is that if you are continually rewarded for bad behaviour you will probably continue to do it. But if the obverse is true you might consider changing your behaviour.
The force statement continued: "It is wrong to interpret Sir Bernard's comments in today's Times ... as a proposal that fraud victims should not be compensated." It continued to acknowledge: "The Commissioner's comments have been reported fairly in the Times article."
His comments follow the release of the Home Office's Modern Crime Prevention Strategy (PDF) which, alongside announcing a consolidated crime database, stressed public responsibility for cybersecurity. ®
* Software to prevent you from making a terrible faux pas? Oh , hang on, if he had that... [Subs]
Sponsored: What next after Netezza?