Australia, here's your re-re-re-invented national web page
Digital Transformation Office reveals familiar Gov.au Alpha and SME assistance portal plan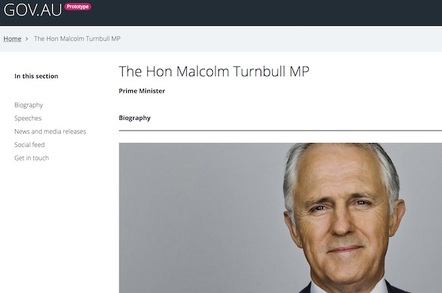 Australia's Digital Transformation Office (DTO) has revealed the design it hopes will eventually be used on all Australian government web sites.
The DTO's head Paul Shetler today revealed the site at a function in Sydney, explaining it is designed to remove the need for citizens to know anything about the machinery of government and instead guide them through tasks like establishing a business.
Shetler said that approach was selected after rounds of research and consultation that led to the realisation that citizens find it hard to interact with government.
Australia reached the same conclusion in 2014. That effort also used insights from United Kingdom models, as did this re-invention. We think that makes the new alpha a re-re-re-invention, if anyone is counting.
This time around things certainly look different, as the image at top (and here for readers of our mobile site) of the design pattern applied to pm.gov.au makes plain.
The DTO has given itself until late 2016 for a full public beta.
The video below explains more about the approach.
The DTO's also started work on a new Digital Marketplace that it's hoped will allow smaller technology businesses to secure government agencies as a client. Assistant minister for cities and digital transformation Angus Taylor explained that Australia spends AU$5bn a year on technology, but not much of that goes to small businesses. That's not good, Taylor said, because it means government is less likely to tap into clever and keen locals who can offer it innovative goods and services that improve government services.
Which is just what Australia's previous government said when it established the office of the Technology Supplier Advocate in 2010. Australia's current government cut funding for the position in 2014.
When The Register mentioned this to DTO and ministerial staff at the event, none were aware of the Advocate's position.
While we were told that the DTO will happily look into the Advocacy as it designs the marketplace, it looks like the DTO is re-inventing the wheel to a degree.
At least the re-invention is impressive: the video above outlines what appears to be a powerful way of interacting with government. Here's hoping the DTO can pull it off without the SNAFUs and cost overruns that hit the the UK's Government Digital Service (GDS) with its ' rural payments agency. The DTO is unashamedly modelled on the GDS, but hopefully not to the extent of repeating its failures. ®
Sponsored: Beyond the Data Frontier