Comms 'redlining' in Brussels as explosions kill up to 30 people
Facebook slowly activates 'Safety Check' to decrease strain on telecomms networks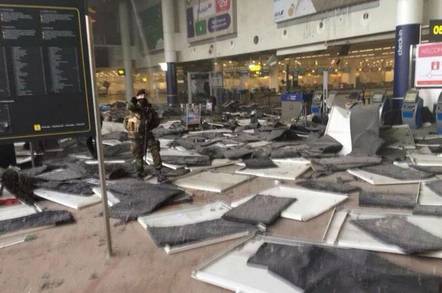 Communications are "redlining" in Brussels after three explosions struck the city this morning, two at the Zaventem international airport and one at the Maelbeek metro station.
Belgian national media has called for citizens to stay indoors and off of their phones around the capital city following what seem to be terrorist attacks. Reports say more than 30 people were killed this morning, and many more were injured.
The sudden increase in phone usage following the attacks has lead to the nation's Crisis Centre to encourage Belgians to communicate via text message or social media.
A Reg contact in Belgium tells us: "Comms is pretty much redlining in Brussels. National media are asking people to stay off the phones, especially around/in/out of Brussels. [We've been told to] use SMS."
Belgium telco giants Telenet and Proximus have opened up their hotspots nationally, with free 24-hour access to Wi-Fi to help the public communicate.
Facebook's controversial "Safety Check" feature, which allows users the company believes are located at the sites of disasters to signal that they are safe, was not active for more than two hours after the attacks.
It has now activated it, which may assist in alleviating the demands on local network resources as concerned parties attempt to check in with friends and loved ones.
Non-Facebook members had historically been presented a page denying visitors access to content on its site without logging in to accept Facebook's terms and conditions because of a Belgian privacy ruling, but this was suspended this morning in the wake of the attacks.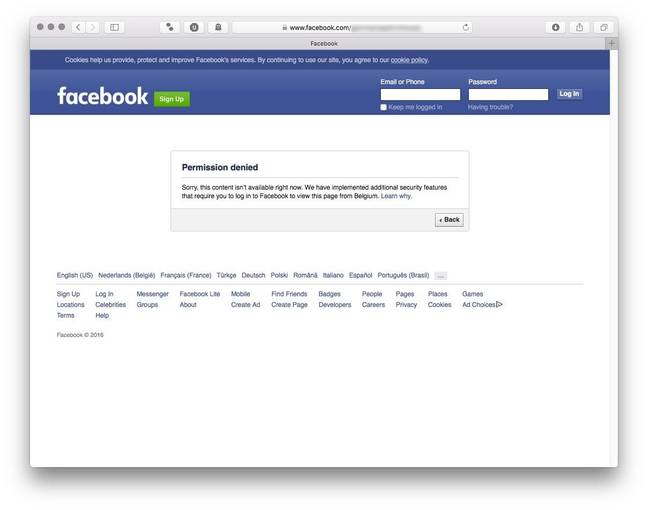 The original "Permission denied" page was described by our Belgian source as Facebook's "fairly petulant reaction to Belgian law asking it to respect privacy" and meant it was "impossible to advise people using [the medium of] Facebook" – a route many security authorities have taken in the wake of the attacks.
A spokesperson told The Register: "We activated Safety Check - a simple and easy way to say you're safe and check on others after a major disaster or crisis - in Brussels. In 2015, more than 950 million people received a notification that a friend or loved one was safe in a crisis." ®
Sponsored: Practical tips for Office 365 tenant-to-tenant migration