Twitter at ten: The social network designed for 2006 struggles into a second decade
Thanks for the career, guys, covering you and connecting me to the storage community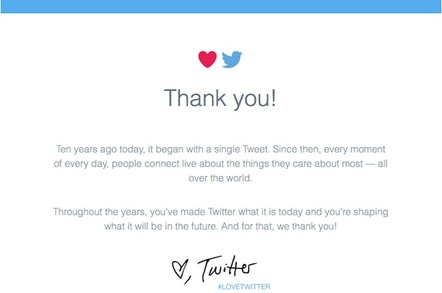 Twitter turns 10 today and I, for one, would like to thank for sustaining my career by connecting me to important people and giving Reg writers an almost-car-wreck to chronicle.
Some back story: in 2007 an Alpha Geek friend told me about Twitter as we stood in the playground of a school making sure our kids didn't experience any trauma before the bell rang for the start of the day. As we chatted, the friend mentioned Twitter. I signed up the same day as member number 1,407,461. The network now has over 300 million, although it's cagey about how many are bots or miscreants.
In 2007, Twitter was flaky. The infamous Fail Whale surfaced on as many days as not. But Twitter had two things other social networks did not at the time.
One was mobility: back then you could Tweet with an SMS. In 2007, smartphones weren't yet ubiquitous so Twitter was able to mobilise users, literally and figuratively, years before mobile became a must-have. In the service's early years, speculation centred on when Twitter would add local SMS numbers beyond the USA and UK. The company never got around to serving many nations but it didn't matter: TXT was cheap enough that even when I travelled overseas, Twitter came with me.
Twitter's second advantage was APIs, which meant developers could write their own clients to the service and in turn meant users could find their own ways to consume Twitter.
I found a Firefox sidebar called "Twitbin" that delivered the world streaming past me all day. For a journalist, that was invaluable. For a journalist in Australia who was at that time trying to cover storage with more than local flaks and hacks were willing to dish out, that was invaluable. Without going all gushy, Twitter made it possible to connect with the global storage and virtualisation community, or at least the loudest parts of it. Without those connections, I doubt very much that El Reg would have been impressed by my CV (and you would have been spared this story).
In its early years Twitter was also responsive. Users dreamed up the @usersname format for public messages. Twitter's development community made it searchable and Twitter made it official. Hashtags came along and were officially embraced. Users demanded the platform they wanted and Twitter obliged.
Twitter's API and early success on mobile devices gave the service its start as the quick-and-easy way to report on whatever one beheld of felt at any given moment.
In 2009 this Tweet of a US Airways plane ditching in the Hudson River made Twitter's potential as a news medium abundantly plain. The service started to be used by mainstream media as the equivalent of vox populi interviews with people on the street: it was and remains easier to harvest opinions or get early looks at big events from Twitter than almost any other source.
That the company's not been able to add features that capture users' needs in 2016 is its big problem.
That the company has slowed the development of its core product is probably down to the inevitable need to make some money. In backrooms Twitter started selling data to third parties. In public, it launched "promoted Tweets" that sponsors paid to have inserted into timelines. That product was far from a breakthrough for marketers, but that audience did find the service an important as a way to quickly sample or seed public opinion.
Twitter's next couple of years saw it grow users, but many fewer than Facebook. By the early 2010s, The Social NetworkTM had something Twitter lacked: a figurehead to champion it to the world.
Mark Zuckerberg took over the position of de facto head of state for the Pan-Global Republic of Technology that Bill Gates held for so long. Despite Zuckerberg having a nasty strategy – encapsulate the internet without users noticing or ever seeing anyone else's ads – the world mostly accepted his ascent.
Twitter, meanwhile, had a revolving cast of leaders and a strategy that proved impossible to divine. While the service remained popular and was always to be seen in the media, rumblings about the extent of its users engagement became louder. Others pointed out that, alone among major social networks, Twitter was happy to accept adult entertainers and teasers to their most salacious content.
As the likes of Tumblr, Instagram and Pinterest emerged, Twitter was outflanked as a quick-and-easy blogging platform. The rise and rise of WhatsApp and Snapchat made it a non-starter as an instant messaging platform.
None of which stopped the company floating in late 2013 and thriving in its first weeks as a listed entity. But the company's never returned to anything like its January 3rd, 2014 share price of US$69. The company closed last week at $16.83, has endured layoffs and restructuring as it attempted to staunch losses and now appears to be trying to catch up to Facebook's algorithmically-curated timeline without appearing to be a blatant copyist and/or admitting defeat.
The company's 2015 results (PDF) make for interesting reading. On the one hand, the company says it had a great year because it generated US$2.2billion of revenue and attracted more attention from users. On the other, it's user numbers aren't growing, it's losing money and the service has a new plan to get things pointed towards profit.
The company's now intent on getting better at live video, making the service safer and "Relentlessly refining Twitter will enable more people to get more out of Twitter faster."
Video has worked for Twitter: the Vine loop-sharing app is influential. Live-streaming acquisition Periscope less so, and neither are major user magnets.
Chronicling those struggles means Twitter has given me a career in two ways: it got me deeper into storage and gave me a company to write about. The storage caper's troubles and twists should sustain a career for a while. Twitter's might not: the company is the subject of speculation it may become Google-bait and is at risk of losing its position as the de facto eyewitness to the world.
But back to my friend in the schoolyard and our kids. Without doing the adoring parent thing, the kids are now starting to show really promising signs that when they hit their straps, big things can be expected. Both had a few years head start on Twitter, so perhaps their rapid progress and maturation is to be expected. But I also reckon the kids' best days lie a long way ahead, because in 2007 they were just starting to learn the things they'd need in their futures. Twitter's most mature moments, by contrast, might just have been its 2006 SMS and API decisions. ®
Sponsored: Learn how to transform your data into a strategic asset for your business by using the cloud to accelerate innovation with NetApp