Mystery Kindle update will block readers from books after Wednesday
This is not the time to take your Kindle camping, people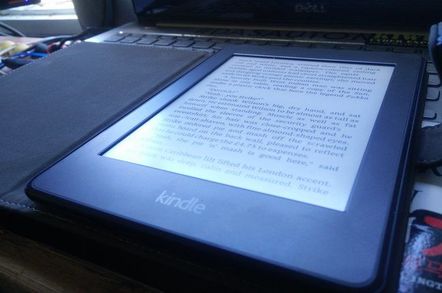 Readers will be unable to download their purchased books or buy new ones without a computer handy if they fail to update their Amazon Kindles by Wednesday.
Users of Kindle models older than 2013 will need to apply an update over their device's wireless connection to install a critical fix. Those who do not will be kicked from Amazon online properties, including the book store, and their cloud library of purchased books and documents.
Amazon has sent emails to user account inboxes warning to update. It has not explained what the fix addresses and had not responded to a request for comment by the time of publication.
In a notice posted to the Amazon website marked urgent the book baron says devices that are not updated by March 23 will sport a generic connection error message and must be manually updated using a computer.
Manual updating will require users download their respective latest firmware files and transfer these onto the device via USB before selecting 'update your Kindle' from a menu. The minor effort will become a major pain for readers who only connect their devices to the Amazon Whispersync network in order to buy books, and never to WiFi.
That setup would be common for the many readers who leave their devices on airplane mode between books in order to maximise battery life.
It will also grind those who miss the message and attempt to find a new book to read in locations where a computer and a wireless connection is not available. Non-technical savvy users will also be caught out by the need to manually update.
To update Amazon recommends users plug in their devices to mains power and leave it connected to the internet overnight. Kindles may restart several times while applying the fix.
Updated devices contain a document in the library titled 03-2016 Successful Update. ®
Sponsored: Detecting cyber attacks as a small to medium business