Spotify to cough up royalties, just toss your copyright claims over there ... in the bin
Music streamer strikes deal to pay mystery artists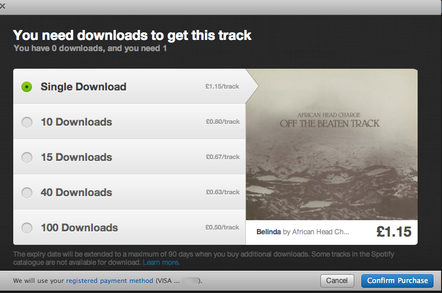 Spotify says it has struck a deal with the National Music Publishers Association (NMPA) to pay out more royalties to songwriters.
The music streaming service said in an announcement with the NMPA that it would begin paying out to artists who claimed music previously unclaimed by a performer or songwriter.
"I am thrilled that through this agreement both independent and major publishers and songwriters will be able to get what is owed to them," NMPA president and CEO David Israelite said.
"We must continue to push digital services to properly pay for the musical works that fuel their businesses and after much work together, we have found a way for Spotify to quickly get royalties to the right people."
The deal will allow publishers to lay claims for "unmatched" songs which have not yet been linked to a rights holder for copyright payments. Artists who claim songs will be able to get a payout from Spotify for past use of the song as well as royalty payments going forward, and get part of a "bonus" pool of cash from Spotify.
"As we have said many times, we have always been committed to paying songwriters and publishers every penny," said Spotify head of communications and public policy Jonathan Prince.
"We appreciate the hard work of everyone at the NMPA to secure this agreement and we look forward to further collaboration with them as we build a comprehensive publishing administration system."
Though Spotify and the NMPA did not disclose the cash terms of the deal, the pool for payouts is reportedly around $16m to $25m, with another $5m set aside for the "bonus" payments. According to Spotify's latest financial numbers, the biz raked in $1.3bn in sales in 2014 and turned that into a $197m loss.
Those who sign on to the deal will also reportedly forfeit their rights to sue Spotify as part of a pair of class action cases against the streaming music service alleging unpaid mechanical royalty fees. ®