Heads up, rocket fans: Soyuz launch tonight
NASA TV to screen live departure to ISS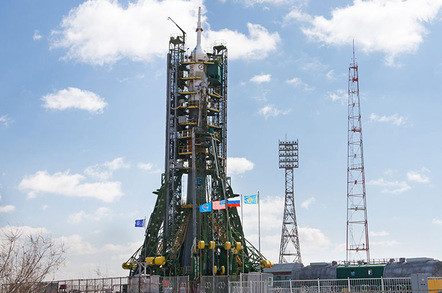 There are worse thing to be doing on a Friday night than quaffing a few beers while watching a mighty lifter thunder aloft, so get a few cold ones ready in the fridge and plump up the sofa cushions in preparation for tonight's Soyuz launch to the International Space Station.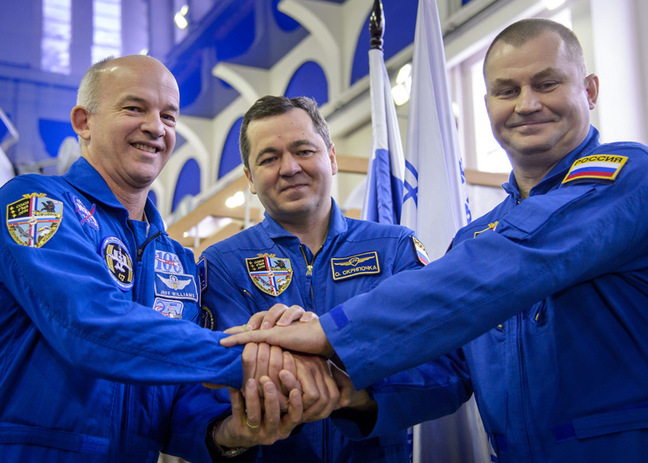 Jeff Williams, Oleg Skripochka and Alexei Ovchinin. Pic: NASA / Bill Ingalls
The rocket bearing 'nauts Alexei Ovchinin, Oleg Skripochka and Jeff Williams to the orbiting outpost is due to depart Baikonur at 21:26 GMT (5:26 PM EDT). NASA TV will be following the action from 20:30 GMT (4:30 PM EDT), and there's a full EDT schedule right here.
The Soyuz TMA-20M capsule is due to dock with the ISS less than six hours after lift-off, at 03:15 GMT. Ovchinin, Skripochka and Williams will be welcomed aboard by Expedition 47 members Commander Tim Kopra, and flight engineers Yuri Malenchenko and Tim Peake.
The three new arrivals are booked in for a six-month stay. Former Russian Air Force colonel Ovchinin is making his first trip aloft. His fellow cosmonaut Skripochka previously spent 159 days in space as flight engineer on Expedition 25/26, back in 2010-11.
This will be Jeff Williams' fourth time in orbit. In 2000, he participated in ISS construction as a member of space shuttle Atlantis's STS-101 mission. He completed two six-months stints aboard the station in 2006 and 2009-10. During his latest visit, he'll become "the new American record holder for cumulative days in space - with 534", according to NASA. ®
Sponsored: Becoming a Pragmatic Security Leader