HERE: We're still, er... HERE
3D and robocars loom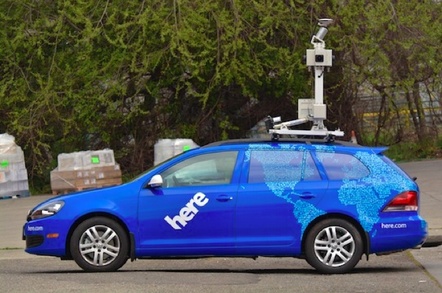 HERE has provided the best, and some say only real mobile competition to Google Maps, but this week it dumped its biggest fans: people who own a Windows Phone. So we were keen to hear more about HERE's strategy - to find out whether we have any part in its future thinking.
HERE says Microsoft's impending shift to Windows 10 would have forced it to "redo Maps from scratch - from the ground up". Instead it will put the Windows Phone 8.x versions of Maps, Drive and Transit into maintenance mode, and remove the Windows 10 Mobile version from the Microsoft app store.
HERE was spun out of Nokia last year, and landed in the, er, clutches of a consortium of three car manufacturers: Audi, BMW and Daimler.
Company spokesman James Etheridge explained: "Not everyone agrees with the decision we made but we don't have unlimited resources." Instead, it's directing those resources at iOS and Android. It's been quietly building up a 3D data set - but consumers won't glimpse the potential of this just yet.
HERE recently completed the rollout of the Nearby feature for Android, giving you the ability to easily toggle the appearance of feature such as ATMs and taxi stands. That's coming to iOS too.
It is continuing to map the world in 3D. Just over two years ago, we went for a drive in one of HERE's mapping cars, as it photographed and scanned West London using Lidar.
"We have 430 cars globally, including a few in the UK. Of those, 200 have the 3D Lidar," says Etheridge. "That's helping us to do a number of things, much more precisely than the conventional entertainment map. With Lidar we have accuracy down to 10cm to 20cm."
It has put some of this into a B2B tool pitched at cities, to help them plan infrastructure or manage inventory, such as lamp posts and kerbside boxes.
But it's a glimpse of what could come, marrying the Street Level (its version of Street View) to the 3D knowledge:
"We have a bigger plan for that kind of imagery. We're creating a beautiful 3D world - we want to go beyond photography and create a computable 3D map - so you can not just look at it but manipulate it in some way too."
Drivers might be dismayed that one long-request SatNav staple, live rerouting, won't be coming to the consumer product. Your reporter likes the routing and presentation of HERE Drive a lot, but it's never had live rerouting, which means it can steer you right into a traffic jam.
"We can do it," says Etheridge, "but this is currently only available on traffic products which we license to car companies, Garmin, government agencies and so on."
Before the spin-out, HERE had already showed off autonomous driving smarts and avoiding traffic jams is one of those smarts.
The writing had been on the wall for WP users for some time, as Android and iOS were updated more regularly. Windows 10 Mobile has a rich, integrated maps product built-in. It's just that for drivers, it's like squinting through a letter box - proof that a Universal App isn't Universally good everywhere. ®