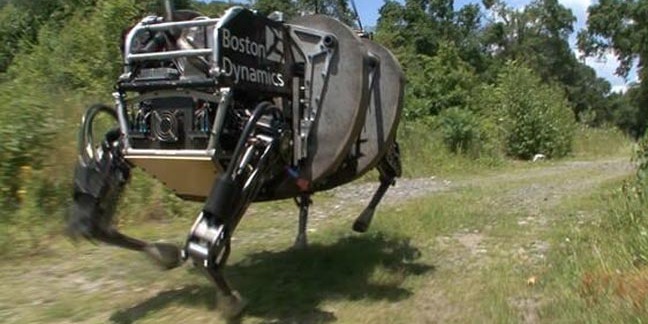 Google's parent company Alphabet is fixing to flog its money-munching robotics arm, Boston Dynamics, which it only bought three years ago.
Executives at Alphabet reckon that military robotics tech firm Boston Dynamics is unlikely to produce any real revenue in the next few years, reported Bloomberg, and as such has quietly put the unit up for sale.
The trouble lies with Google's robot initiative, named Replicant after the cyborgs in Blade Runner, it was reported. Replicant "was plagued by leadership changes, failures to collaborate between companies and an unsuccessful effort to recruit a new leader" after the head of the group, Andy Rubin, departed the company, Bloomberg reported.
Despite having produced the "Big Dog" robot mule, and the 5'9" bipedal "Atlas" robot, neither machines were commissioned by the US military after having been created to meet Pentagon dangled contract, with the Marine Corps turning down the "Big Dog" robot as it was too loud to be used on operations.
Boston Dynamics, which had remained based in Boston, away from the rest of the Chocolate Factory's Replicant team, also struggled to fit in. Bloomberg reported that tensions between Boston Dynamics and the rest of Replicant team were made public after the minutes of a contentious meeting were accidentally posted to a forum accessible to all of Google's staff.
Replicant was subsequently assimilated into Google X, the Chocolate Factory's research wing for more outlandish projects. Boston Dynamics, however, wasn't transferred over but tipped as for sale to other companies such as Amazon and Toyota.
It was reported that Google's PR crew were upset with Boston Dynamic's latest robot video, as it did not wish for Alphabet to be associated with any forays into humanoid robotics - despite having titled the robotics initiative Replicant.
Bloomberg acquired other emails which were published internally, which stated: "There's excitement from the tech press, but we're also starting to see some negative threads about it being terrifying, ready to take humans' jobs."
Courtney Hohne, a director of communications at Google and the spokeswoman for Google X, requested that her colleagues "distance X from this video," and stated that, "we don't want to trigger a whole separate media cycle about where BD really is at Google."
"We're not going to comment on this video because there's really not a lot we can add, and we don't want to answer most of the Qs it triggers," she wrote, according to Bloomberg.
Google has declined to comment. ®
Sponsored: How to simplify data protection on Amazon Web Services