Comcast now touts unlimited gigabit service (that you can't get)
Only a handful of Georgians will get to slurp from broadband motherlode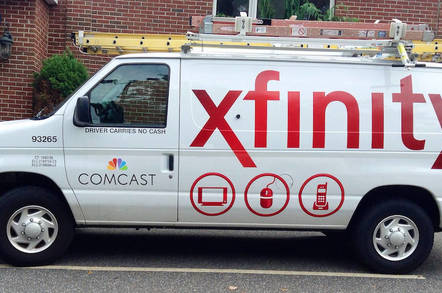 Comcast has opened up its unlimited gigabit-a-second internet service to customers.
Perhaps "opened" is a bit of a stretch: the US cable giant is only letting a handful of customers in a few select neighborhoods get their hands on the all-you-can-download service.
Comcast said that the service, which will be the first to pipe unlimited gigabit through a standard cable line, will be available only in a few parts of Atlanta in homes with a DOCSIS (data over cable service interface specification) 3.1 modem installed.
People who live in the covered areas will have the option to purchase the service at a monthly charge of $70 on a 36-month contract, or pay twice that ($139.95) to get service without a contract obligation. The first installation went to a home in the Atlanta suburb of Dunwoody.
"Our Atlanta customers will be among the first in the world to enjoy this new Gigabit technology, and we're looking forward to learning more from these early adopters about how they take advantage of these ultra-fast speeds," Comcast central division president Bill Connors said in announcing the rollout.
"The capabilities of DOCSIS 3.1 are incredibly exciting, and we are the first to market with a Gigabit offering that runs over our existing cable infrastructure."
Atlanta was one of the first places after Philadelphia to get the DOCSIS 3.1 modems last year, and all of the planned 2016 gigabit rollouts will be to markets (Miami, Chicago, Detroit and Nashville) where the modems are offered.
Comcast has not yet said when it plans to make a larger rollout of the DOCSIS 3.1 gigabit internet service.
The rollout of a gigabit service over existing lines is key for Comcast in its bids to fend off competing internet and TV services from rivals such as AT&T, Verizon FiOS and Google Fiber, who pipe their gigabit services over more expensive fiber cables.
Google Fiber in particular has been rattling the cages of the larger ISPs in recent years. The Alphabet-backed service has teamed up with accommodating city governments that offer Google incentives to bring gigabit service to their towns.
In addition to the fiber service itself, the arrival of Google Fiber often has the effect of inspiring other providers to get their own gigabit services to market.
Atlanta, for example, enjoys not only the new Comcast gigabit service, but also AT&T GigaPower and a Google Fiber network under construction. ®
Sponsored: Becoming a Pragmatic Security Leader