Western Digital spins up a USB disk just for the Raspberry Pi
314GB drive designed to slurp less power, ships with OS bootloader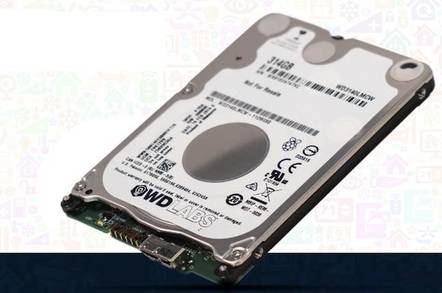 Western Digital's WDLabs has spun up a hard disk just for the Raspberry Pi 3.
The "PiDrive" has a capacity of 314 gigabytes is just 7mm tall and looks, per the picture above (here for readers on our mobile site) to boast just a single platter. It's a USB affair, connectivity-wise, but WD says it has tweaked the device so "... the drive's magnetic recording and electrical system operating set-points align with Raspberry Pi's USB data and power design to reduce the electrical power load of the hard drive on Raspberry Pi, while still maintaining sufficient performance to deliver maximum USB data transfer rate."
The most interesting addition is probably BerryBoot, a bootloader for the Pi. "Upon system boot-up," WD says, "the OS can be selected from the BerryBoot menu and launched with a couple of mouse clicks."
We're pretty sure, having read the documentation about the accessories WDLabs is offering for the drive, that you actually need to load BerryBoot onto an SD card and pop that in the Pi. Once you do that, connect the drive and boot up, the bootloader will happily load operating systems from the PiDrive. Which at 314 gig means you can wallow in rather more storage capacity than is available on an SD card.
The drive's also keenly priced at a Pi-themed US$31.42 in the WD store. By the time you get the requisite cables and cases, that price balloons. ®
Sponsored: Detecting cyber attacks as a small to medium business