Serious unboxing: 230 node research cluster down under
'Pearcey' fires up at Australia's CSIRO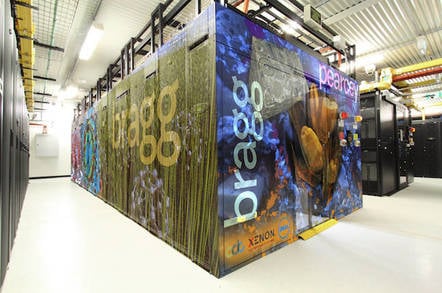 Australia's Commonwealth Scientific and Industrial Research Organisation (CSIRO) has run up a 230-node cluster from Dell to support its data-intensive and computational modelling research activities.
The core of the machine, dubbed "Pearcey", is a bunch of PowerEdge M630 blades with 128 GB RAM each, and four R930 PowerEdge nodes with 3 TB of memory each.
Sixteen of the M630 blades come with extra memory – 512 GB each – and Dell's ScaleMP software presents them as a single 8 TB cluster running a single OS image. There's Mellanox FDR InfiniBand networking connecting it all together.
The M630 is a Xeon E5-2600 v3-based unit, and when the blades – list price more than US$18,000 per if you're a casual shopper on the Dell site – are loaded with two processors, each blade can have up to 36 cores.
Dell APJ's High-Performance Computing manager Andrew Underwood says the Pearcey machine has come from "more than three years of close collaboration with CSIRO's Information Management and Technology team".
Dell's probably pleased about the three-year gestation of the project, since it didn't expose the project to the seemingly-random budget cuts that have infested the rest of CSIRO since 2013.
Target applications include bioinformatics, fluid dynamics and materials science, CSIRO says.
CSIRO computational modeller Dr Dayalan Gunasegaram explains that the "thousands" of processor cores available in Pearcey is valuable for finite element analysis.
Dr Gunasegaram says in Dell's canned statement that computer simulations are helping the agency's work on nylon mesh for use in pelvic organ prolapse (POP) surgery, something required by one in five women at some point in their lives.
"The computer simulations allow us to better understand the cause-and-effect relationships between mesh parameters, such as pore size and their expected in-vivo performance after implantation, and really focus on the areas with the most influence," he explained.
The super's name is in honour of Dr Trevor Pearcey, who helped build CSIRO's and Australia's first computer, CSIRAC, in 1949. ®
Sponsored: Detecting cyber attacks as a small to medium business