Brits shun nightclubs and CD-ROMs for lemons, coffee and woman's leggings
Mmmm, let's just stay in and have a Baileys and a choccie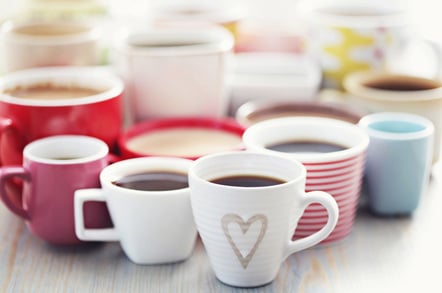 Modern Britons would rather sit at home in a pair of lady's leggings quaffing Baileys, downloading computer games and sucking lemons than grab a ham roll down the pub before going to a nightclub.
At least that's the image suggested by the latest rejig of the shopping basket of goods and services that the Office for National Statistics uses to calculate inflation.
The revamped 2016 list used for calculating CPI drops rewritable DVDs, which HM's stattos describe as "a declining technology which is being superseded by streaming services and personal video recorders (PVRs)". So it's no surprise that CD-ROMs are also dropped, with the ONS saying people are increasingly downloading software instead.
Nightclub entry also gets the bullet, because of "collection difficulties and reduced expenditure as the number of nightclubs is declining".
Strangely, pub hot or cold snacks are dropped too, with the explanation, "originally a cold roll for a lunchtime snack, but developed into another pub meal as it was difficult to price without chips or salad." Or in the case of Scotland, chips.
So, what is added to the basket to reflect Britons' changing tastes now that they're not raving it up down the disco or enjoying a ploughman's lunch down the Hewlett You Inn?
Tech gains a new category for computer software, which is "classified to data processing which is an under-covered area". Computer game downloads, are added, as "attracting increased expenditure and their inclusion splits the eight of computer games".
Thanks to that nice Mr Clooney, we also get coffee pods, which the ONS describes as "a distinct and growing product not previously covered within the class".
Bizarrely, we also get cream liqueur - think Baileys et al - which "has been introduced to help interpretation of a class where there is a high degree of price volatility due to discounting. Or perhaps to calm people down after they've quaffed too much pod coffee before deciding to stay at home instead of going out clubbing.
Other notable additions include woman's leggings, lemons, large chocolate bars and a "meat-based snack, multi pack". Which all just rolls off the tongue, don't you think. Significantly, we also get microwave-able rice.
You might be interested to know that alcohol and tobacco account for 4.2 per cent of the CPI overall, compared to 10.3 per cent for food and non-alcoholic beverages.
One last oddity is how the agency handles markets where spending "falls below the £100m mark". In these cases, a "representative" item is chosen.
Thus, "while spending on acoustic guitars and power drills is relatively low, both are included in the baskets to represent wider markets (musical instruments and electrical tools respectively) that would otherwise not be covered explicitly."
Let's face it, they're more representative of good intentions – learning an instrument, do some DIY – that will never come to fruition, particularly as consumers' concentration is hijacked by too much pod coffee, downloaded computer games and discomfort caused by ill-fitting lady's leggings.
If you're up late after drinking too much coffee, you can peruse the full list here. ®