Brit teen bags $250,000 in first World Drone Prix
Full robot games on the cards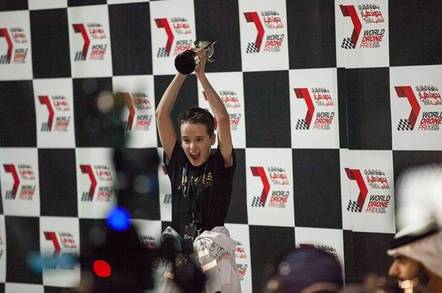 Pics and video A 15-year-old schoolboy from the UK has won a first prize of US$250,000 (£175,000) after besting 31 other pilots at the first World Drone Prix in Dubai.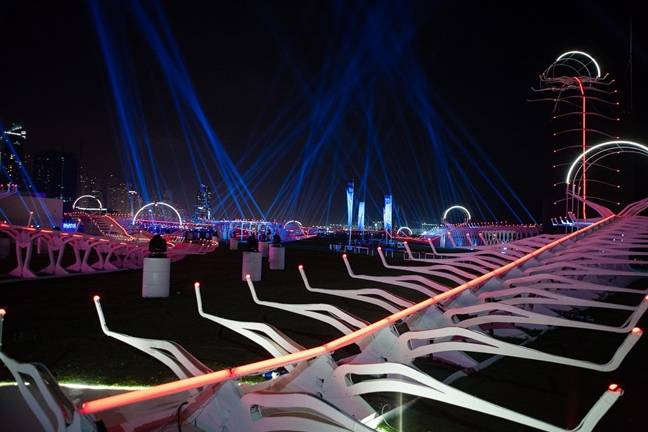 Racers, start your rotors
Luke Bannister, pilot for the Tornado X-Blades Banni UK, beat home team Dubai Drone Tek into second place, by racing battery-powered drones at speeds of up to 113kph (70mph) along a Tron-like 591-metre (646-yard) track built for the purpose by the Dubai organizers. In total, the race organizers handed out $1m in prizes over the weekend.
Teams consisting of a pilot and navigator using FPV (first-person view) headsets raced the course for 12 laps this weekend. Racers have to navigate a series of neon-clad tunnels, taking the occasional short cut, and making at least one pit stop per race to allow a technical team to swap out batteries.
"Obviously, there's a crossover with gaming, as you can see with the HD goggles," said Nigel Tomlinson, manager of Luke's team told AP.
The teenager, who attended the race with his mother, said that the race itself was "awesome," and wants to become a professional drone racer. The World Drone Prix is just one spot on the calendar and in October there's US$200,000 up for grabs in the Hawaii finals of the Droneworlds race.
Meanwhile, Dubai is aiming to become the new hot location (no pun intended) for the growing high-tech gaming space. Mohammed al-Gergawi, the United Arab Emirates' minister for Cabinet affairs, said that next year the state wants to host the first robotic games.
This would feature robot wrestling, swimming, and running contests, as well as remote control car racing by competitors. The minister said such competitions would be important to ensure that Dubai is seen as being at the forefront of the emerging field.
"We are trying to bring the future closer to us," he said.
Luke won't be going on to be a payday, however, such as splurging on a sports car, actual aircraft, or a top-of-the-range gaming rig capable of running an Oculus Rift without lag. Instead the funds will be split among the 43 members of his team. ®