Get on the conveyor: Pure Storage wheels out smaller FlashArray//m
Plus FlashStack Mini converged infrastructure, with vSphere or Hyper-V
Not content with launching a FlashBlade scale-out filer/object all-flash system, Pure Storage has developed a smaller, entry-level FlashArray//m and a separate converged FlashStack Mini system with Cisco and VMware or Microsoft hypervisors based on it.
The FlashArray//m20, m50 and m70 constitute Pure's line of three all-flash arrays for enterprise use. FlashStacks are reference architectures specifying how to integrate these with Cisco UCS servers and switches, and VMware's vSphere hypervisor to create a converged infrastructure system, similar to the Cisco-NetApp-VMware FlexPods.
The three //m systems were more powerful than the three FA-400 models they replaced in June 2015. Now Pure has added the //m10 for small and medium enterprises and as a starter or departmental system for larger businesses.
It is upgradable to the larger models in the //m range through Pure's Evergreen Storage program.
The //m10 features:
5 - 10TB raw capacity and 12.5TB or 25TB of usable capacity after data reduction
Up to 100,000 32K IOPS with less than 1ms average latency
99.999 per cent availability
100 per cent performance during maintenance and failures
It is capable of modular and non-disruptive capacity and performance expansion to /m20, //m50 and //m70 levels.
For reference, and at launch, the //m20 did 150,000 IOPS, the //m50 put out 220,000 and the top-end //m70 delivered up to 300,000 32K random read IOPS.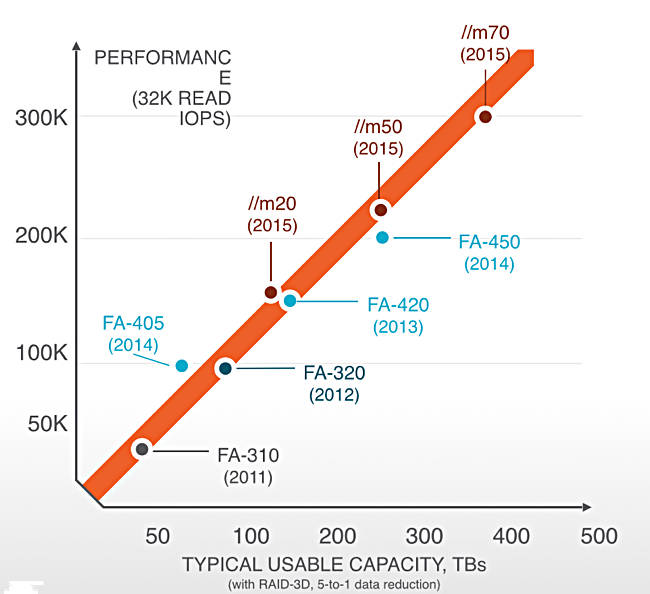 FlashArray//m10 fits in roughly at FA-320/FA-405 level.
The FlashArray//m10 costs less than $50,000 with a year of Pure! support. Pure's Max Kixmoeller, VP of Products, hammered away at this in his prepared quote: "Cost as a barrier to all-flash adoption is a relic of the past. Companies of all sizes can now experience the simplicity, high-performance and reliability that comes with all-flash."
FlashStack Mini
This converges a Cisco UCS server and switch with FlashArray//m10 and either vSphere or Hyper-V a 9U of rack shelving. Such a system with Horizon View could run up to 500 virtual desktops.
It means smaller businesses can now take advantage of converged infrastructure simplicity in ordering, deployment, operation and support.
The larger FlashStack systems now support SAP HANA and Exchange.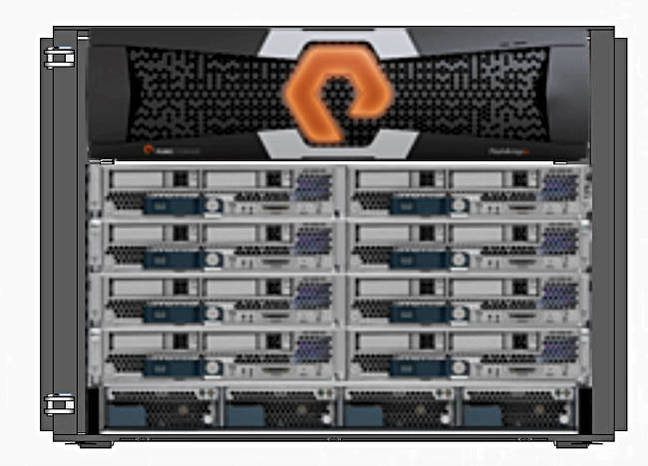 FlashStack Mini
It's possible to have a hybrid private/public cloud with Pure FlashArrays in your own or Equinix data centres and links to Microsoft's Azure for public cloud compute. AWS support is coming in the future. This setup resembles NetApp's direct connection to AWS with the Data Fabric scheme.
FlashStack Mini systems start under $100,000 and are available from and supported by authorized FlashStack partners.
Both the FlashArray//m10 and FlashStack Mini will be generally available through Pure's channel in May. ®