Monster motor breathes fire in Mississippi
Successful test of NASA's first Space Launch System RS-25 flight engine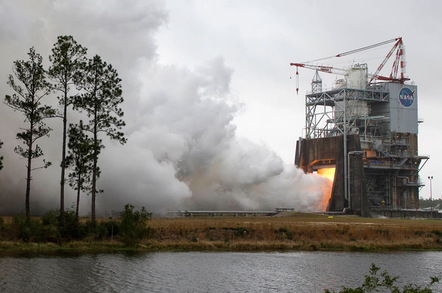 NASA has successfully tested the first RS-25 flight engine, destined to power the core stage of the Space Launch System (SLS).
Last year, the space agency and motor contractor Aerojet Rocketdyne rattled windows around Stennis Space Center in Mississippi with a 535-second burn of a developmental RS-25, destined purely for ground-based evaluation.
The motor breathing fire yesterday - No. 2059 - will be one of four tasked with lifting a real SLS mission heavenwards, with a little help from two solid rocket boosters (SRBs).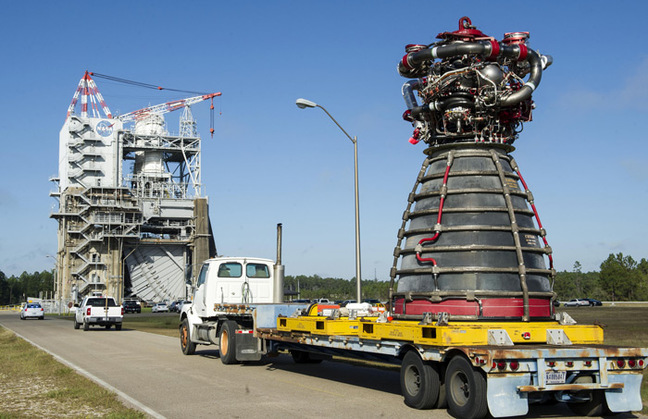 RS-25 No. 2059 approaches the test stand before yesterday's burn. Pic: NASA / SSC
The SRBs are an evolution of those used for space shuttle launches, and the RS-25 is a modified Space Shuttle Main Engine.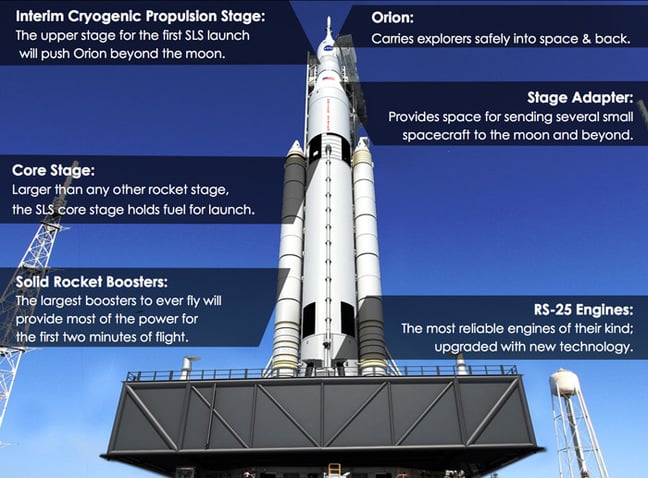 The SLS
NASA describes the liquid hydrogen and LOX-powered RS-25s as "workhorse engines that are among the most proven in the world, having powered 135 space shuttle missions from 1981 to 2011".
Here are some illuminating stats on the Clark Kent of Engines:
The fuel turbine on the RS-25's high-pressure fuel turbopump is so powerful that if it were spinning an electrical generator instead of a pump, it could power 11 locomotives; 1,315 Toyota Prius cars; 1,231,519 iPads; lighting for 430 Major League baseball stadiums; or 9,844 miles of residential street lights -- all the street lights in Chicago, Los Angeles or New York City.
Pressure within the RS-25 is equivalent to the pressure a submarine experiences three miles beneath the ocean.
The four RS-25 engines on the SLS launch vehicle gobble propellant at the rate of 1,500 gallons per second. That's enough to drain an average family-sized swimming pool in 60 seconds.
Yesterday's test burn was 500 seconds, so we'll leave it to readers to calculate just how many Olympic-sized swimming pools (the official swimming pool standard) of propellant were emptied.
A fired-up Rick Gilbrech, the Stennis Space Center's director, said of the first flight engine blast: "What a great moment for NASA and Stennis. We have exciting days ahead with a return to deep space and a journey to Mars, and this test is a very big step in that direction."
There are further developmental and flight RS-25 tests in the pipeline, including one which promises much smoke, fire and trembling earth. NASA explains it's "preparing the B-2 Test Stand at Stennis to test the SLS core stage that will be used on the rocket's first flight, Exploration Mission-1 (EM-1)".
"Testing will involve installing the flight core stage on the B-2 stand and firing its four RS-25 rocket engines simultaneously," it adds, in an earplug advisory.
EM-1, carrying 13 CubeSats and an unmanned Orion capsule, is scheduled to thunder heavenwards in 2018. ®