HPE targets flashy and flash-adjacent types with trio of arrays
Promises to help you with your storage, er, diet too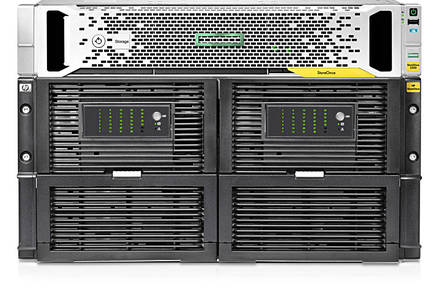 HPE, involved in frenetic storage activities, has launched three new arrays: a hybrid StoreServ, and single and multi-node StoreOnce deduplicating backup to disk systems.
There's also a Get Thinner Guarantee program for wannabe storage capacity dieters.
The 3PAR 20840 converged flash array is basically the all-flash 20850 with added disk drive enclosures to create a hybrid array, although HPE prefers to call it a converged flash array.
HPE claims it is the "highest performing, most scalable converged flash array on the market." It scales up to 21 PB usable capacity, and up to 3.2 million random read IOPS.
It scales out to 8 nodes and has six "nines" uptime (99.9999 per cent availability). The system, with its flash and disk tiers, is not designed for sub-LUN tiering although it could be used that way. The intent is for the disk media to be used for older data.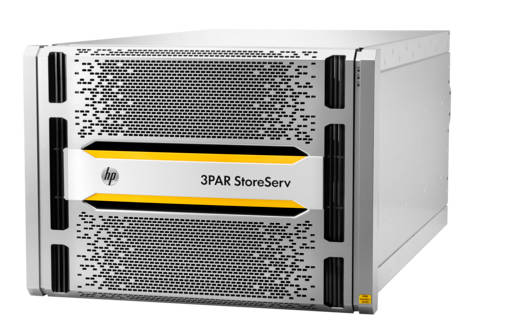 HPE StoreServ 20840
HPE claims it has a 23 per cent lower price compared to an EMC XtremIO All Flash Array with 4, 20TB X-bricks.
It has a more scalable File Persona (file access software) and 8TB disk drives are supported – air-filled and not helium drives. The FP software used to max out at 256TB but now reaches 512TB of total file capacity.
NFS access has improved random read performance while the SMB access has improved throughput.
HPE says the 20840 can provide "affordable flash-adjacent archiving suited to less active data on the same system running applications on flash drives."
That's a nice touch, being able to have all-flash and hybrid arrays sharing the same data management and access services while still having great all-flash performance.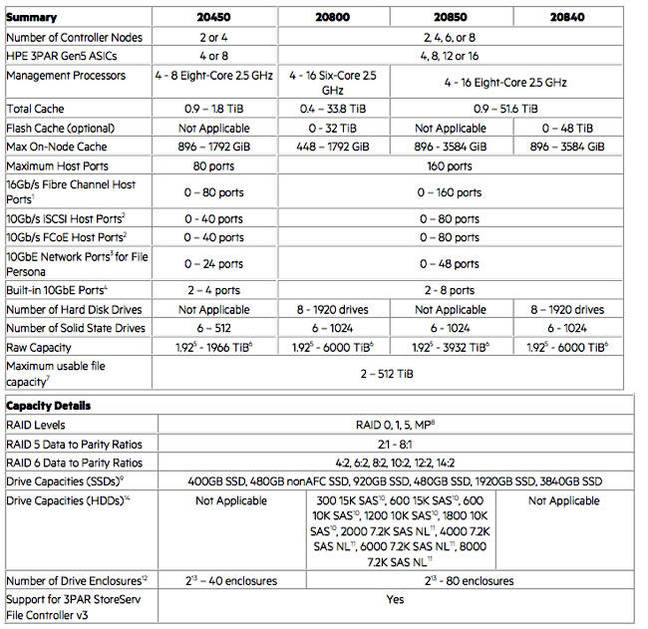 Commensurate with this array's arrival, HPE is introducing 2TB 7,200rpm nearline SAS 140-2 FIPS encrypted disk drives.
The "highest-performing" justification is based on a 20840 SPC-2 result, which needs a bit of explaining. HPE has run SPC-2 benchmark tests on the 20840 and prior 20850, and these measure overall array performance in terms of throughput (MB/sec) and (discounted) price/performance. These numbers are calculated from three component workloads: large file processing, large database query and video-on-demand.
The 20840's SPC-2 run (PDF) scored exactly the same numbers as the StoreServ 20850. Its summary doc actually includes 20850 information in its detail pages (page 5 for, example).
HPE explains: "The 28040 uses the same controllers as the 20850, hence with the exact same configuration it will deliver the same performance results. As a consequence we did NOT test the 20840. Instead we agreed with SPC to use the 20850 results previously published. The reference to the 20850 on page 5 is therefore correct as this chapter is about the 'SPC-2 Reported Data'. At the bottom of page 10 you can find an explanation of the difference between the Tested Storage Configuration (20850) and the Priced Storage Configuration (20840)."
Here are the differences:
The factory programmed BIOS model identifier is set to the value representing the StoreServ 20840 model
The 20840 optionally supports hard disk drives whereas the 20850 does not
Okay, all clear? Good. Moving on, the array is integrated with the StoreOnce products for data protection, and there happen to be two new StoreOnce products.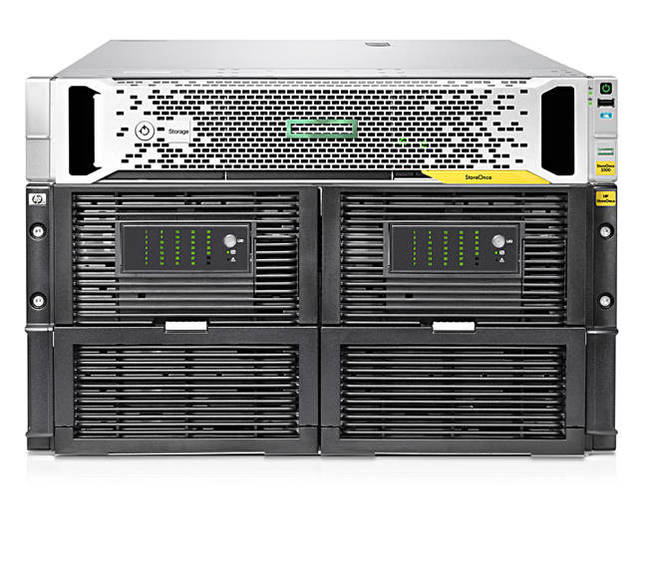 HPE StoreOnce 5500
StoreOnce
Currently there are single-node StoreOnce 4900 and multi-node 6500 systems, the latter scaling to 2.24PB (1.728PB usable) with ingest speeds up to 139TB/hour.
We now have StoreOnce 5500 and multi-node 6600 devices, with the 6600 scaling out to 1.7PB and a 184TB/hour ingest rate. The 5500 scales up to 864TB usable capacity with a 37.7TB/hour ingest rate.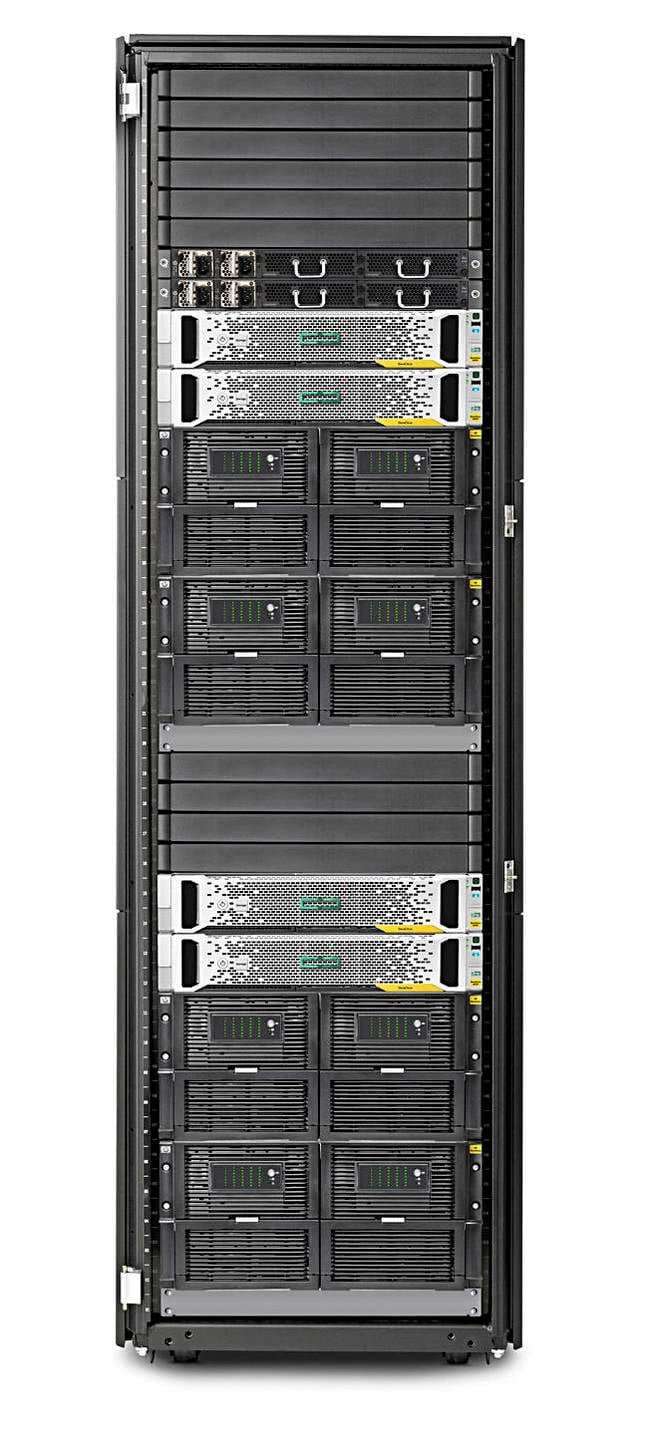 HPE StoreOnce 6600
The 6600 has built-in redundancy to provide automated failover. StoreOnce systems can "perform flat backup directly from 3PAR Storage … via HPE StoreOnce Recovery Manager Central software … [and] protect data directly from within applications like VMware and Microsoft SQL."
There are extended connectivity options with 8 and 16Gbit/s Fibre Channel links supported, as well as 1 and 10GbitE.
As ever, Data Domain is the benchmark, and HPE says its latest StoreOnce lineup "offers 2x the scalability, 3x greater performance, and half-the cost than comparable EMC Data Domain systems."
Get Thinner guarantee, availability and pricing
The latest way to get your storage on a diet, banishing data obesity, is a Get Thinner Guarantee with a free, up-front workload assessment and a written assurance of as much as 75 per cent capacity savings if you migrate from your fat old capacity-waster to the slim, lithe, Bay Watch-fit, StoreServ. It includes savings from 3PAR's Thin Deduplication and a big data assessment facility with a customer-specific written contract.
The 20840 arrays are available now, supporting 1,920 Drives (up to 1,024 SSDs) and 15PB usable, starting from $147,000 (street price)
In the second half of this year systems will be available supporting 2,304 Drives (up to 1,152 SSDs) and 21PB usable
8TB 7.2K Nearline SAS drives are available and shipping from March 29th 2016 with a US street price starting at $1,705
The 3PAR Get Thinner Program is now available worldwide for new sales of 3PAR 8000 and 20000 Storage Systems
The StoreOnce 5500 will be available worldwide from 31st March 2016 with a US street price starting at $35,100
The StoreOnce 6600 will be available worldwide from 31st March 2016 with a US street price starting at $75,000

Get a StoreServ 20000 series datasheet here. ®