Violin Memory axes quarter of its staff after finances hit a bum note
No sign of a sale, either
Violin Memory has become a sub-$50-million-run-rate company with its latest loss-making quarter, and announced a 25 per cent head count cut in a restructuring exercise.
The beleaguered all-flash array company saw revenues in its fourth fiscal 2016 quarter, ended Jan 31, of just $10.9m, the lowest amount in more than three years. They were 46 per cent down on the year-ago quarter's $20.5m and 12.8 per cent less than the prior quarter's $12.5m.
Product revenue in the quarter was $4.35m, down 31.3 per cent from the previous quarter's $6.33 million, and 70.1 per cent less than the year-ago's $14.5m; a pronounced sales fall.
The red ink was a bright, flaming red, with losses of $25.5m, amazingly a 45.5 per cent improvement on a year ago, which saw a $46.82m loss, but worse than the prior quarter's loss of $22.7m.
With it being the final fiscal 2016 quarter, the full year numbers rolled in too. They were bad.
Full fiscal 2016 revenues were $50.9m, a 35.6 per cent drop on the previous year's $79m. The full year net loss was $99.1m, a small improvement on the prior year's loss of $108.9m.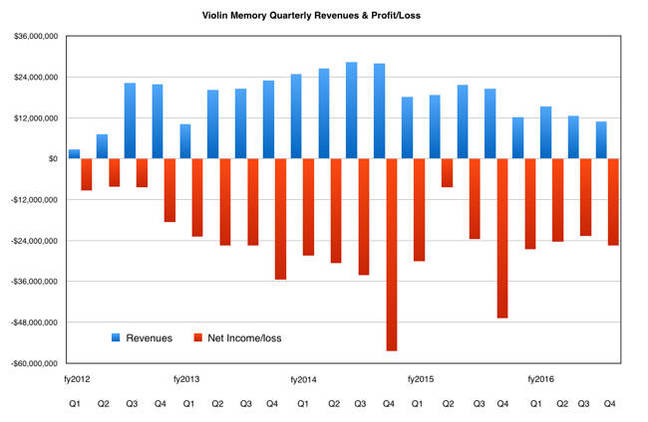 CEO Kevin DeNuccio and the board faced up to this train wreck by announcing a restructuring exercise involving firing a quarter of Violin's staff, meaning 86 people. The restructuring is "focused on aligning its expense structure with current revenue expectations."
This plan will reduce its expenses and Violin expects "its cash burn rate to be less than $10 million per quarter beginning with its fiscal second quarter ending July 31, 2016." It will be $16m–$18m in the first fiscal 2017 quarter.
DeNuccio said its strategic review, carried out with investment banker Jefferies LLC, "has produced multiple strategic go-to-market and technology relationship opportunities, which we intend to pursue." Wonder what they are.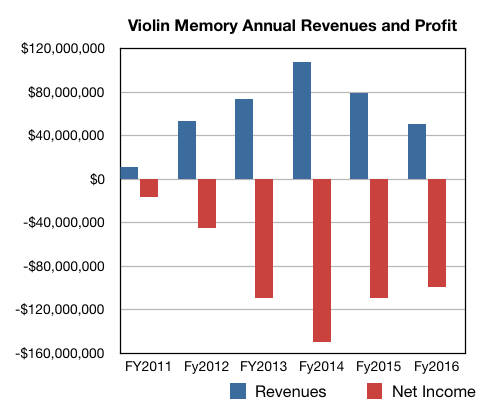 Incredibly, to some people we are sure, he added: "We have also concluded the formal review process, thereby returning the company's focus to growth and profitability. In support of this, Violin has reset its cost structure to provide a pathway to profitability over the next 18-24 months without the need to raise additional capital."
No sign of a company sale there.
"Furthermore," DeNuccio said, "the Flash Storage Platform (FSP), which achieved $17 million in sales in its first year of release, is positioned as the feature and performance standard for primary storage, a market segment that is poised to accelerate."
The feature and performance standard is quite a claim, and one with which EMC (DSSD, XtremIO), HPE with 3PAR StorServ SPC benchmark scores, and Pure Storage, not to say HDS and others, may disagree.
In the earnings call we heard CFO Cory Sindelar say there are some 40 customers for the FSP product, and Violin gained 7 new customers this quarter, following a gain of 10 in the previous quarter. He said the last 90 days had been stressful.
DeNuccio said he believed strongly in the company's plan going forward and saw the company returning to a leadership position.
The Q&A with analysts was not public. A pity, as we were looking forward to hard questioning of the CEO and his plans for the company.
Let's remind ourselves that Violin has never been profitable and growth came to a crashing halt after fiscal 2014.
When activist investor Clinton Group is threatening a proxy war in its increasingly voluble attempts to get Violin to sell itself, such an attitude of gaining leadership and profitability in 18-24 months may strike some observers as remarkable. ®
Sponsored: Your Guide to Becoming Truly Data-Driven with Unrivalled Data Analytics Performance