Jeff Bezos to give forth at US space symposium
Blue Origin head honcho booked for top industry gig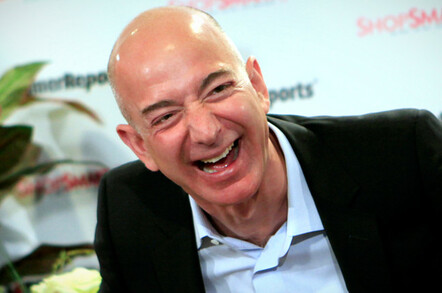 Jeff Bezos, founder of Amazon and Blue Origin, will speak at the Space Foundation's 32nd Space Symposium in Colorado Springs on 12 April, sandwiched between appearances by the Air Force Space Command's top man General John E. Hyten, and Deputy Secretary of Defense Robert O Work.
The four-day shindig, running from 11-14 April, is described as "the most significant annual global space industry conference". On offer are "a Technical Track, two classified tracks, discussion of emergent space technology, international space panels and a New Generation Space Leader program".
The classified tracks are Cyber 1.6 Classified and Space Classified, both of which require "U.S. citizenship and a TS/SCI [Top Secret / Sensitive Compartmented Information] security clearance".
Those without both can enjoy instead the Lockheed Martin Exhibit Center and Pavilion, featuring "more than 170 displays of the world's latest space technology, products and services".
One of the symposium sponsors is United Launch Alliance (ULA), which recently announced a partnership with Blue Origin and the US Air Force to develop the BE-4 rocket motor - "the fastest way to end American dependence on the Russian-made RD-180 engine", according to Blue Origin.
The BE-4 will power ULA's next-generation Vulcan, expected to make its first flight in 2019. ®