Oracle tweaks exchange rate, hikes up database prices in UK
Five per cent across the board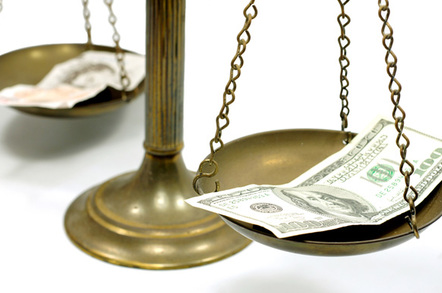 Oracle's database customers are set for a five per cent price hike in the UK.
The database giant is bumping up charges across the board for user and processor licences, for software update licences as well as support for Standard Edition 2, Enterprise Edition and on NoSQL Database Enterprise Edition.
Unlike some other Oracle price hikes, though, this one only impacts the faithful in Britain.
The reason is the weakening pound and strengthening dollar as Oracle has recalibrated its official internal corporate exchange rate.
As of March 1, Oracle now works on dollar-pound exchange rate where $1.00 is worth £0.66. The previous rate of £0.63 was introduced on December 1, 2015.
While the rate increase affects all Oracle's database products, perhaps the most acute pain will be felt by those on Standard Edition (SE).
The named user price for Standard Edition 2 has now gone up from £222 to £233 with the processor licence increasing from £11,086 to £11,641.
The price of Enterprise Edition 2 support and maintenance – which had been £48.78 and £2,438.98 – is now £51.22 and £2,561.02 respectively.
It's understood rates will be phased in for those already purchasing their Oracle databases.
The local currency exchange rate rebalancing is not unusual for Oracle, happening twice a year, but it comes after the giant introduced measures restricting the number of sockets allowed to run with SE in order to stop users effectively using the lower-priced database as a substitute for the more expensive Enterprise Edition.
Oracle cut by half the number of sockets users were allowed to run with Database 12.1.0.2 SE2.
It also capped the maximum number of threads SE2 could run at any time to 16.
The exchange-rate-based change was spotted by Steve Bridle, sales director of Oracle consultant and licence specialist Agile Technology Solutions.
He told The Reg that customers feel Oracle is deliberately making it harder for them to use SE2, pushing them towards the more expensive EE.
"A lot of customers are tired of Oracle and they expect Oracle to increase prices through adding to the price or chipping away at the terms and conditions," he said.
He reckoned customers he'd spoken to were already switching from Oracle to less expensive options, including Microsoft's SQL Server.
They are making the switch based on applications – particularly if the applications they'd wanted to use are available on more than one database, he claimed.
"SMEs are looking at what is the lowest total cost of ownership and they may decide Oracle is too much for an entry-level product," Bridle said. ®
Sponsored: Becoming a Pragmatic Security Leader