NASA preps stadium-size sandwich bag launch
Mighty polyethylene orb eyes ultra-long flight record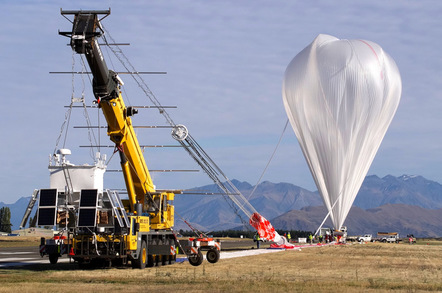 NASA is gearing up for the fourth launch of its high-altitude, heavy-lift super pressure balloon (SPB) tech, which involves hosting a 1,025kg payload aloft under a helium-filled "pumpkin-shaped, football stadium-size balloon" crafted from "22-acres of polyethylene film - similar to a sandwich bag, but stronger".
The SPB will float heavenwards from Wanaka Airport, on New Zealand's South Island, on 1 April, rising to a "nearly constant float altitude" of 33.5km. The ultimate aim of the programme is "ultra-long-duration flight of up to 100 days at mid-latitudes", which could offer a budget alternative to getting scientific payloads aloft which might otherwise require launch into orbit.
For example, the University of California's Compton Spectrometer and Imager (COSI) - designed to "probe the mysterious origins of galactic positrons, study the creation of new elements in the galaxy, and perform pioneering studies of gamma-ray bursts and black holes" - will be on board for the forthcoming flight.
COSI lead collaborator, professor Steven Boggs, said: "SPBs enable completely new types of science investigations, such as we are attempting with COSI.
"The long duration and night-time observation capabilities of SPBs are transformative. COSI is just the first science payload to take advantage of these new capabilities."
The current SPB flight record is 54 days, which began at the previous launch site in Antarctica back in 2009. In 2015, the first mission from Wanaka flew 32 days, 5 hours, and 51 minutes before the team detected a leak and terminated the flight over Outback Australia.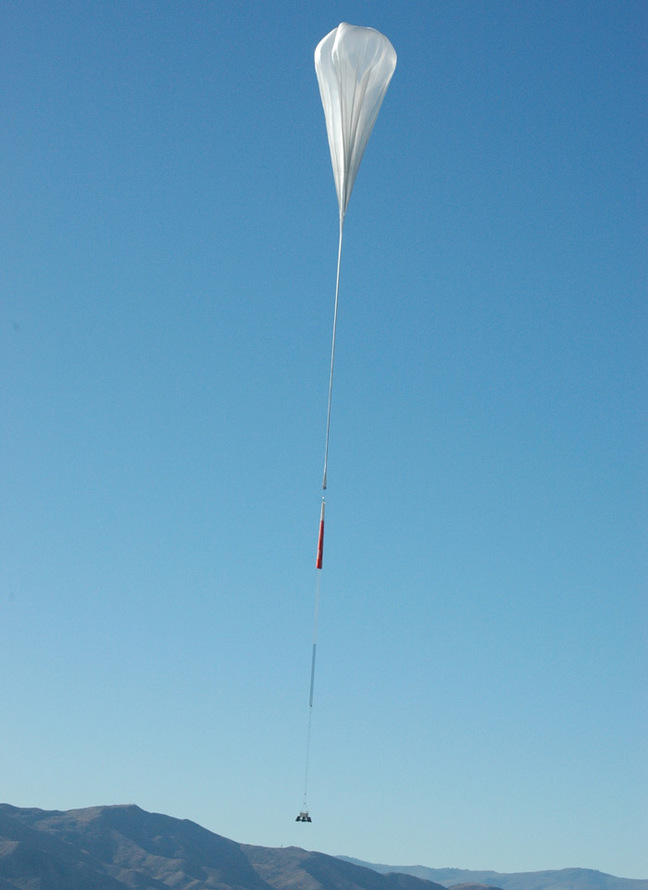 The 2015 SPB launch from Wanaka. Pic: NASA
The 1 April Wanaka launch should prove entertaining. Debbie Fairbrother, NASA's Balloon Program Office chief, said: "It was incredible to see the interest in our balloon flight last year, with hundreds of people coming out to viewing locations or climbing nearby Mt. Iron to see our launch.
"All that buzz seems to be building up once again, and we're looking forward to engaging the community even more."
Those south of the equator who can't make the lift-off might get a glimpse anyway. NASA explains: "As the balloon travels around Earth, it may be visible from the ground – particularly at sunrise and sunset – to those who live in the southern hemisphere's mid-latitudes, such as New Zealand, Argentina, Australia and South Africa."
For those who prefer to enjoy these things from the comfort of their PCs, there will be a live tracking map here.
Regarding the dimensions of the SPB orb, as noted above NASA describes it as "football stadium-size" - a unit the space agency has previous used for the balloon which lifts the Low Density Supersonic Decelerator (LDSD).
However, the LDSD globe is 963,000 cubic metres when fully engorged, or ample enough to "fit snugly into Pasadena's Rose Bowl". The SPB balloon is just 532,000 cubic metres, so it's certainly no Rose Bowl. We humbly beseech NASA to pick a football stadium and stick to it, as in "pumpkin-shaped, half a Rose Bowl-size balloon" in the case of the SPB. ®
Sponsored: Becoming a Pragmatic Security Leader