Hacker 'Guccifer' extradited to US
George W Bush painting leaker plucked from Romanian cooler for stateside trial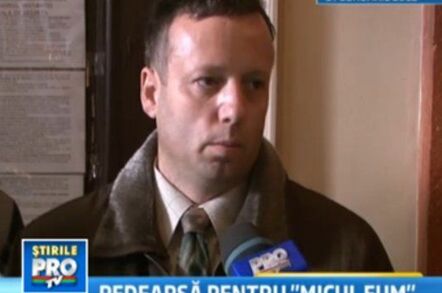 Convicted hacker Marcel Lahel, better known by his handle "Guccifer" under which he hacked celebrity and government accounts, is being extradited to the US to face computer intrusion and identity theft charges.
Lahel, 42, is best known for stealing and publishing paintings by former US President George W Bush. He also hacked and published emails from comedian Steve Martin, celebrities Leonardo di Caprio and Mariel Hemingway. Three members of the UK's House of Lords have also fallen foul of his exploits.
Reuters reports Lahel will be shipped to the US under a court-approved 18-month temporary extradition following a request by US authorities.
Lahel was sentenced in 2014 to four years jail for hacking accounts of Romanian officials including the head intelligence gun charged with catching him.
He was indicted in the US by a federal grand jury in 2014.
The Romanian citizen and unemployed taxi driver and paint salesman served seven years in the Arad maximum security prison and now faces nine counts for hacking US public officials and celebrities.
He used open source intelligence and social engineering tactics to gain access to email accounts.
Lahel's wife told Pando last year he did most of his hacking from the quiet village of Sâmbăteni, Transylvania.
He began hacking at the age of 35 and in 2011 released information in 2011 about Romanian football players and entertainment icons. Those efforts scored him a suspended jail sentence.
Lahel is described as an intelligent misfit with a hacker's disgust for poor security standards by those who should know better. He's also interested in the occult, seeking connections between US officials and the Illuminati. This culminated in his work designated Project Alpha in which he claimed to have foiled a paranormal secret society by accessing emails between former Secretary of State Colin Powell and Romanian politician Corina Creţu.
Lahel claimed those emails showed romantic links between the pair, which both subsequently denied.
George W Bush was a Klu Klux Klan member, Lahel claims. He also says has a "secret journal" owned by the Rockefellers and stolen from the Illuminati.
Prosecutors have said Lahel has a "compulsive need to be famous". ®
Sponsored: Detecting cyber attacks as a small to medium business