Pretty, Nimble, but these financials just aren't nimble enough
Revenue rises tempered by deepening losses
Nimble Storage's revenues rose to $90.1m in its fourth fiscal 2016 quarter but its losses deepened, to $32.4m, counter-balancing that good news. Overall revenues didn't rise enough to assuage investors' concerns about future profitability.
The company has fixed the big hole in its product line with the release of an all-flash AF-series array late in the fourth quarter, but this came too late to boost the revenue number.
The lack of this product had contributed, it was thought, to Nimble's faltering growth last quarter.
The quarter went well revenue-wise, up 31.9 per cent on the annual compare; 11.7 per cent on the sequential, quarter-to-preceding-quarter, one. Nimble gained 725 new customers, which made a total of more than 2,600 customers acquired in the fiscal year, and 7,580 in total.
For the full year Nimble revenues were $322.2m, up 41.5 per cent, which is solid growth but not as dramatic as a doubling of revenues would have been. The net loss was $120.1m, 26.6 per cent deeper than in fiscal 2015.
Here are the revenue and net income numbers for the latest quarter, the preceding one and the year-ago quarter, with percentage changes supplied: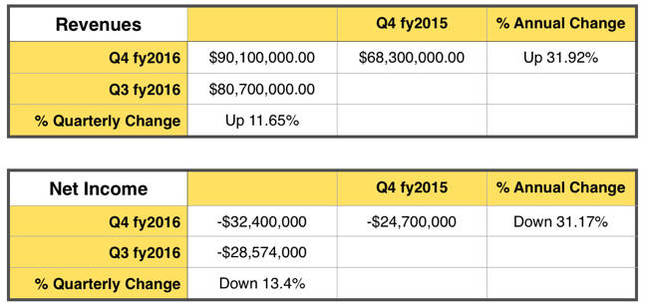 To put the quarter and full year in context, here are charts showing the quarterly and annual revenue and net income trends: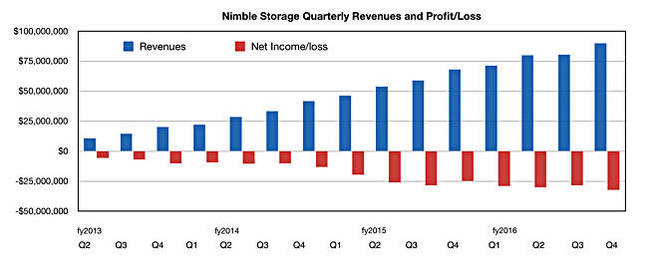 No evidence of a hockey stick curve here
And the annual figures: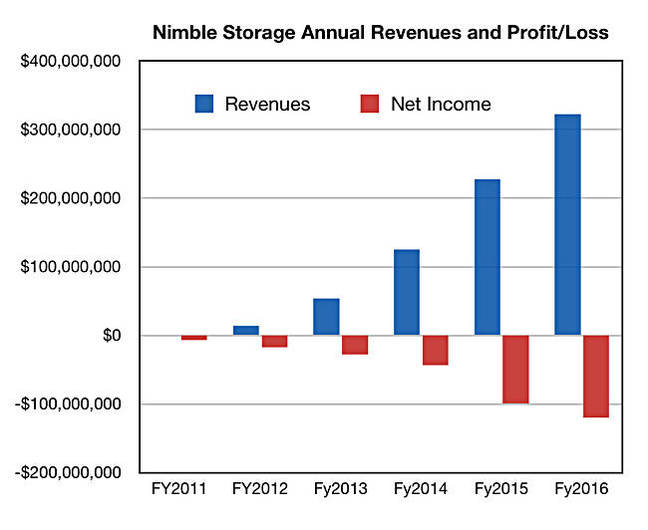 Nimble CEO Suresh Vasudevan said: "Our long-term goal is to emerge as the leader in storage."
Yes, setting your sights high is good. He was pleased with the new customer acquisition rate, saying it was "a pace of customer acquisition that remains unmatched by any emerging vendor in our industry."
CFO Anup Singh was firmly on message: "The investments we are making in accelerating our commercial business, and in entering the all flash market will allow us to accelerate market share gains and position Nimble to emerge as the next storage leader."
Er, EMC (+ Dell), HPE, NetApp, HDS, IBM, Pure Storage, Oracle, Huawei and all; prepare to be passed.
It's a waiting and show-me quarter for Nimble watchers as they wait to see if revenue growth accelerates with the all-flash AF-series product introduction. Nimble estimates for next quarter range from $83.0 to $86.0m, with a mid-point that, at $84.5m, is six per cent lower than the $90.1m recorded for Q4. Even the high end of the range, $86m, is lower than Q4's $90.1m.
This isn't an all-flash array boost; it's a drop in revenues, perhaps influenced by seasonality, but that indicates a slowing growth machine in itself. Also, current sales projects could be delayed as customers evaluate the AF series machines instead of Nimble's hybrid array products.
Analyst haus Stifel Nicolaus' MD, Aaron Rakers, provided this view for his clients: "We believe the company's forward outlook (losses) will continue to keep shares range-bound as the company works through a 1HF2017 rebuilding period."
Sell the hell out of the all-flash arrays Nimble, and surprise us all. ®
Sponsored: Minds Mastering Machines - Call for papers now open