Windows 10 Mobile bug fixes come thick and fast as official upgrade nears
Build 10586.122 addresses 'upgrade experience'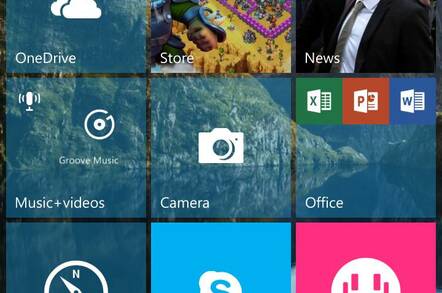 Microsoft has released Build 10586.122 of Windows 10 Mobile, following four preview builds last month, as it prepares to upgrade phones running Windows 8.1 to Windows 10.
Microsoft's Gabe Aul, veep of engineering systems, said in January that "we're still on track to release Windows 10 Mobile as an upgrade to existing devices early this year as we planned." Although new devices running Windows 10 Mobile have shipped, existing Windows 8.1 phones have not been updated unless their owners have opted in to the "Insider" preview program.
Note that there are several different streams for Windows 10 Mobile preview builds. On February 18th, Microsoft released Build 14267, part of the "Fast" stream with new features, whereas the new build is an update to the "Current Branch," in Windows 10 terminology, which means it is a tweak to the existing release build rather than one with major new features.
The latest build addresses the "upgrade experience from Windows Phone 8.1," according to Aul, as well as supporting additional devices, specifically MCJ Madosma Q501, BLU Win HD W510U, BLU Win HD LTE X150Q, and Alcatel Onetouch Fierce XL.
The fix list includes some major annoyances, such as "an issue where adding your Microsoft account during the Out of Box Experience would fail and prevent the account from being re-added," as well as improvements in battery life and general reliability and performance.
Oh yes, and "Improved Alarm reliability" is Microsoft saying that alarms sometimes did not go off before?
At Mobile World Congress last week, a couple of vendors showing preview Windows 10 Mobile devices remarked to me that they were not as stable as they should me, though they were careful to attribute this to their drivers and customizations rather than the operating system itself. That said, my own experience with a Nokia Lumia 830 running an insider build suggests that Microsoft has work to do; operations like sending an image to Twitter or to email seem prone to failure. However, newer builds have improved matters, and although Windows 10 Mobile is a step back from Windows 8.1 in usability, it is more capable. ®
Sponsored: What next after Netezza?