Amazon crafts two more voice-controlled gizmos in its Echo chamber
Is the tech robust enough to handle what is being thrown at it?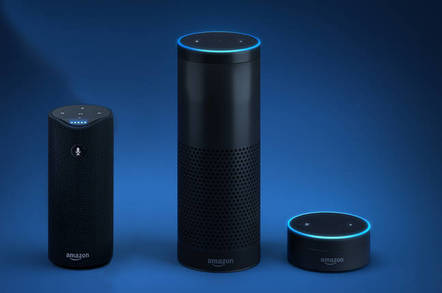 Amazon is putting its full weight behind its surprise tech success, the Echo voice system, with the release of two complementary products.
The Amazon Tap is a smaller, portable version of its $180 standalone Echo that costs $130, and the Echo Dot is a cut-down version of the Echo that costs $90. In both cases, Amazon's hope is to spread its Alexa voice-recognition technology as far as possible.
The Tap is basically a Bluetooth speaker that can also connect via wireless, and the Dot is a way to get the same functions as the larger, more expensive Echo in a different part of your house (Amazon is currently only selling Dots to people who order them through their Echo). The Dot has a small built-in speaker but is intended to be plugged into an existing sound system.
Both products are a smart way to extend the Echo system both inside and outside your house. Why would you want to do that? Because, as we wrote in our review of the Echo last year, the technology is surprisingly good. It picks up your voice clearly and simply and connects to a range of useful services, from music streaming to online radio, while also acting as a kind of voice encyclopedia – you can ask it questions while doing something else and get back voice responses.
In short, it's an unexpected jump in the right direction, and Amazon's customers have repeatedly told it so. Following the company's largely failed efforts to get into the phone, tablet and streaming TV markets, it is putting everything it has behind Echo.
Expansion
As a result of that, Amazon has been announcing, week after week, tie-ins with other companies' products. Originally, the Echo would work with things like TuneIn and Pandora, as well as a range of obscure apps covering everything from trivia to number and joke generators.
Recently however it has added Uber, Spotify, smart thermostat Ecobee, smart-home devices such as the Hue lightbulbs, Insteon, Wink and, in a bit of a coup for the company, smart thermostat Nest.
Has Amazon found the perfect solution to the home of the future? The device that will tie in all the new internet-enabled services and products seamlessly and give us a simple and functional control – our voice?
That's the dream. The reality, however, is currently some way off.
Following this reporter's review of the Echo, the slim black device has had a permanent home in the family kitchen and as such has daily and pretty tough testing carried out on it by a range of individuals.
And here's the result: when it works, it's great. When it doesn't, it's infuriating. And the rub: the more complicated things gets, the more Alexa/Echo is likely to fail.
Sponsored: What next after Netezza?