ISS 'nauts wrap 'historic' 340-day mission
'One giant leap toward putting boots on Mars'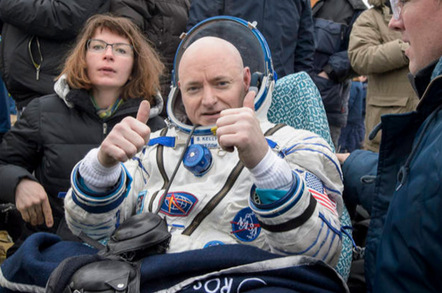 Scott Kelly and Mikhail Kornienko returned to terra firma from the International Space Station earlier this morning at the end of a "historic" 340 days aboard the orbiting outpost.
The pair's Soyuz TMA-18M capsule floated to earth at 04:26 GMT southest of the town of Dzhezkazgan in Kazakhstan. Also on board was cosmonaut Sergey Volkov, who'd himself clocked up 182 days aloft.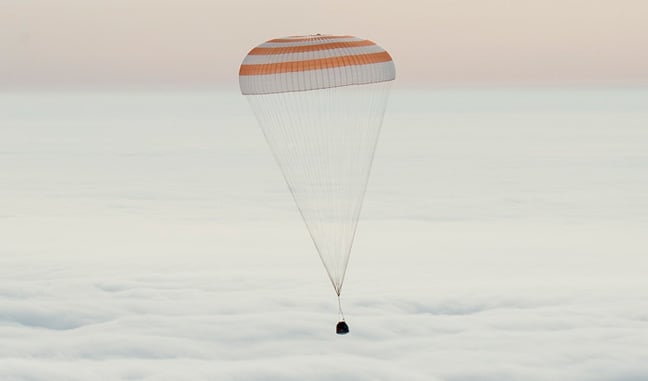 The Soyuz TMA-18M floats earthwards this morning. Pic: NASA/Bill Ingalls
Kelly and Kornienko's One-Year mission was principally intended to provide detailed information on how the human body reacts to an extended period in space.

Kelly and Kornienko safely back on terra firma. Pic: NASA TV
For NASA, this is vital for a future mission to the Red Planet. The space agency's head honcho, Charles Bolden, said of Kelly's achievement: "Scott Kelly's one-year mission aboard the International Space Station has helped to advance deep space exploration and America's Journey to Mars.
"Scott has become the first American astronaut to spend a year in space, and in so doing, helped us take one giant leap toward putting boots on Mars."
The current continuous space residency record is held by cosmonaut Valery Polyakov, who spent 438 days between January 1994 and March 1995 on the Mir space station. The same orbiting hotel hosted Vladimir Titov and Musa Manarov for 366 days between December 1987 to December 1988, and Sergei Avdeyev, who stayed for 380 days between August 1998 and August 1999. ®
Sponsored: Practical tips for Office 365 tenant-to-tenant migration