Phew! No evidence found for global criminal hacker conspiracy
Sorry, tinfoil types. Crims operate from home base, don't care for cross-border sharing
Trend Micro security bods have 'capped' their epic research efforts to catalogue the world's regional cybercrime undergrounds.
The mammoth effort saw researchers crawl through criminal forums in five countries, documenting the nuances of each as they went.
The security outfit's forward-looking threat research team detail the findings in the Cybercrime and the Deep Web [PDF]
"... there is no such thing as 'an underground', threat man Christopher Budd says.
"The global cybercrime underground mirrors the globe itself: a patchwork of different countries and cultures, each unique and different in its own way."
The teams found hackers in America did very little to hide their crimes and instead quickly opened and shuttered sites to evade law enforcement.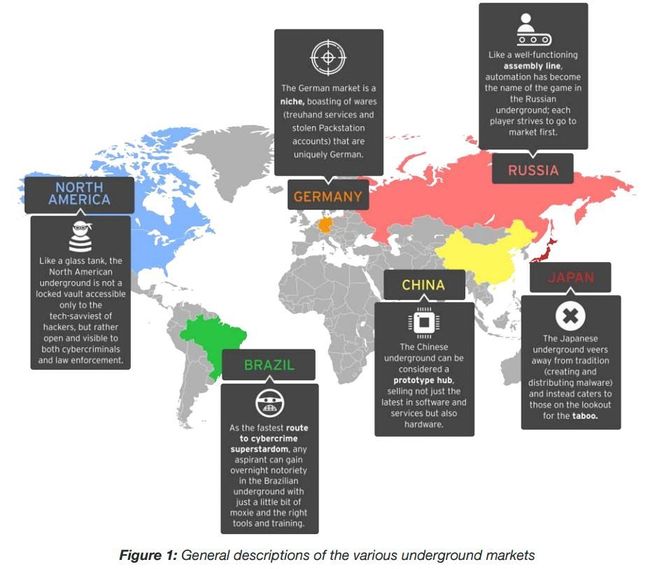 Hackers in Germany take cues operating in lockstep with counterparts in Russia and running what is likely the most effective efforts across Europe.
Russian online criminals operate probably the most prolific crime operations using bizarre slang to chatter across the more than two dozen large and "very active" malware and fraud sites. The scene is akin to an assembly line where "stiff competition" leads to high quality malware, services, and carding offerings.
The research team found Chinese hackers had made money boosting iOS and Android applications with fake reviews published on the official Apple and Google stores. The criminals were said to be the fastest innovators, recently publishing a data leak search engine.
Meanwhile Brazilian crims were among some of the most prolific with one kid using the handle 'Lord Fenix' writing more than 100 trojans in a year. Researchers found it is a place where forum newbies were welcome and had sufficient tools to start fleecing victims without a steep learning curve.
Japanese hackers too had a look-in by the Trend Micro team. The scene was found to be in its infancy and trading in illegal goods and discussing prohibited topics behind gated bulletin boards that promise anonymity and exclusivity. ®
Sponsored: How to Process, Wrangle, Analyze and Visualize your Data with Three Complementary Tools