Pentagon to Dept of Defense: Give us $580bn for cyberwar and spacewar
Greenbacks needed for 'electromagnetic railguns, lasers, and electronic warfare'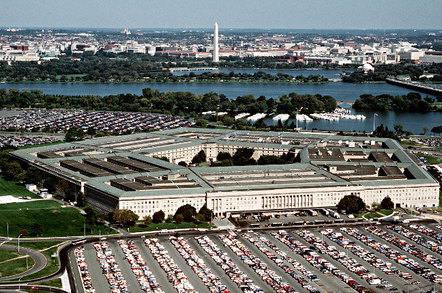 The Pentagon has asked for $582.7bn to bolster the US Department of Defense's (DoD) capabilities, especially when it comes to a future cyber and space war.
Testifying before the House Appropriations Committee, which regulates the US Government's expenditure, the Defense Secretary Ash Carter explained why his department was requesting so much for FY 2017.
Carter said the budget, which is annual, was "taking the long view" and preparing "for what might come 10, 20, 30 years down the road." which the Pentagon seemingly expects full-on cyberwar, and rail-gun laden post-orbital spacecraft nuking each each other off of the shoulder of Orion.
In his submitted statement, Carter particularly focused on the threats that cyber and space warfare posed in that period – noting specifically how "innovation in technologies like the electromagnetic railgun, lasers, and new systems for electronic warfare, space, and cyberspace" will be particularly relevant to "deterring Russia."
Cyber & Electronic Warfare
New investments in cyber will stretch to over $900m, according to Carter, primarily focusing on defending American networks. They also included building potential military response options to "even the most advanced adversaries" in the cyber domain, whom Carter has previously claimed were the Russians, Iranians, Chinese, North Koreans and general terrorists.
"As I made clear when I released DoD's new cyber strategy last April," said Carter, "we have three missions in cyberspace – first and foremost, to defend our networks, systems, and information; second, to defend the nation and our interests from cyberattacks of significant consequence; and third, to provide options that can augment our other military systems."
It was due to the "pervasive presence" of Daesh online, and the recent data breaches at the Office of Personnel Management, that the DoD "has undertaken responsibility for the development, maintenance, and cybersecurity of the replacement background investigation systems and their data infrastructure" according to Carter, whatever the "replacement background investigation systems and their data infrastructure" may be
$6.7bn specifically was committed over the financial year to fund the US Cyber Strategy, which was stated to enable the DoD to "continue to develop, train, and equip our growing Cyber Mission Force, and also make new technological investments to strengthen our cyber defenses and capabilities."
A further $347 million was being invested over the five-year defense plan to help provide cyber tools and support infrastructure for the various forces operationalised to do military business on the 'net.
Space War
Carter was also keen to note that the "budget continues and builds upon important investments in last year's budget to help secure US access to space and address space as an operational domain."
The 2016 budget had included $5bn to make America "better postured for contested military operations in space – including over $2 billion in space control efforts to address potential threats to US space systems
Carter was keen to stress that, while in the past "space was seen as a sanctuary, new and emerging threats make clear that's not the case anymore, and we must be prepared for the possibility of a conflict that extends into space."
Out-and-out orbital warfare seems unlikely at the moment, however, but enemy activities in space could involve anti-satellite operations, as well as "jamming radars" and borking comms and GPS capabilities, suggested Carter, disrupting America's work to "identify, target, reach, and destroy an enemy with precision."
Carter said that the US must "focus on assuring and defending these capabilities against aggressive and comprehensive counter-space programs of others. Though competitors may understand our reliance on space, we will not let them use it against us, or take it away." ®
Sponsored: Becoming a Pragmatic Security Leader